When you're in wedding-planning mode, it can be easy to get bogged down by all the last-minute details that require attention to contribute to the once-in-a-lifetime experience you desire. To give you a break from this mindset for a little while, we wanted to present some big-picture wedding statistics and new trends we think you'll find helpful, or at least amusing, as you figure out how to make your special day as incredible as possible. Keep reading after this infographic for more stats discussing marriage proposals, wedding planning, new trends, and how much the whole process costs!
The Proposal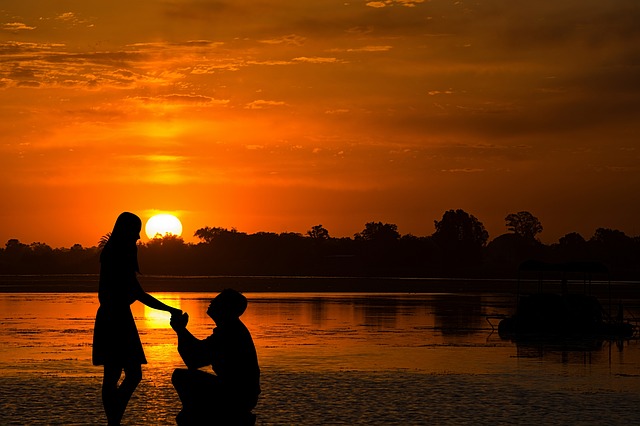 With the proposal being the moment a relationship starts to ascend the path to marriage, it's understandably pretty significant. So when do proposals most often happen? December's definitely a key month, perhaps thanks to the good cheer and holiday spirit in the air. Not surprisingly, Christmas and Valentine's Day are the two most common days for engagements. Once engaged, the odds of a wedding are good: 87% of engagements conclude with a wedding.
As for the hardware that the bride-to-be's friends will be eager to get a peek at, diamonds are still the way to go, serving as the main stone in 71% of engagement rings. What about the cost? As a result of the diamond industry's marketing efforts, a rule of one month's salary going toward a ring has inflated over the decades all the way to three months' salary. If that sounds a little exorbitant to you, you're not alone. In reality, most Americans are spending the equivalent of two weeks' salary on an engagement ring.
Wedding Planning
Once the proposal has been secured and shared with friends and family, it's full steam ahead toward the wedding day! In fact, many younger couples have already been thinking ahead: about
two-thirds of Millennials
report doing things like researching dresses or venues prior to their engagement. The typical engagement length is
14 months
, though this time may seem to fly by due to the amount of planning that goes on. One expert states that some couples will devote
200 to 300 hours
to planning their wedding.
Survey data shows that brides do about half of this planning, with grooms contributing about a quarter of the work and parents and others accounting for the remaining quarter or so. To help reduce some of this work, about a quarter of couples hire a wedding planner. When it comes to the herculean task of compiling a guest list, the average wedding hosts 126 guests. As far as deciding on how many friends and family to have in the wedding party, the typical couple settles on five for each side. When everyone's assembled to celebrate with you, make sure they have something special to take home with them. Wedding favors are given out at 69% of weddings.
The Wedding Day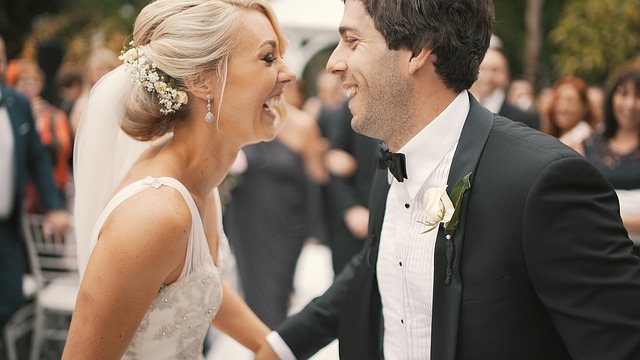 Though spring was once considered wedding season, fall has now earned that title. October and September are currently the most popular wedding months, with June coming in third. January and February are the least popular months to get married. Though there are many excellent reasons for a fall wedding, don't sleep on spring! We explain why in this post.
If you're imagining a wedding on a sandy beach in an exotic locale, you're certainly not alone. A full quarter of weddings are destination weddings, though not all couples define "destination wedding" to mean far-off locations. With their inherent travel and cost considerations, destination weddings have an average attendance of 48 guests.
New Wedding Trends
 
More and more, marrying young is becoming a thing of the past. In 1980, the average marrying age of a bride was 22. Today, the median age for couples tying the knot is 33. However, this doesn't necessarily entail a long period of dating prior to marriage. In fact, nearly half of the couples surveyed were together for less than two years before marrying.
The rise of dating sites and apps has also made an impact in the wedding arena, with 19% of brides meeting their spouse online. Changing attitudes are also being reflected in venue selection. Only a quarter of couples are opting to hold their ceremony in a religious institution. Other types of venues, like wineries and barns, have become more popular in recent years. Personalized elements are also becoming more trendy, with couples deciding to serve foods that are popular in the city where they met, for instance.
Some traditions are becoming more flexible too. Today, nearly two-thirds of weddings feature bridesmaids wearing different dresses, and over a third of weddings involve mixed-sex wedding parties. People are also increasingly finding partners who are different from them across various dimensions, such as espousing differing religious beliefs, originating from a different region, or having a different racial or ethnic background.
The Price Tag
There's no denying that many weddings are very expensive affairs. The average cost for an American wedding ceremony and reception is over
$29,000
, with the venue, catering, and band having the biggest price tags. It's important to understand this, as the average couple underestimates the cost of their wedding by over 40%. Knowing this, you can try your best to set yourself up to stay within your desired budget. Some cost-saving ideas are to plan your wedding for the off-season, keep the guest list small, and plan early on so you can shop around for the best prices on supplies and services. 
Residents
of Hawaii, New Jersey, and Connecticut face the highest wedding costs, while those getting married in Mississippi, Alabama, and Arkansas pay the least.
Once the ceremony and reception are in the books, the festivities still aren't entirely over with! The vast majority of American couples go on a honeymoon, with Hawaii, Florida, California, and Nevada being the favorite domestic destinations. Honeymooning is a big industry, as couples typically spend over $4,400, triple what they would on a normal vacation.
Thanks for reading! We hope these wedding statistics and trends helped to inform and entertain you while you continue on your wedding journey. Feel free to share this post on social media with your friends and family who might be interested!