Weddings are a blast for many guests, but one way to boost the odds of your friends and loved ones leaving happy is by appealing to their sweet tooth. There are many options available to help you do this, but we're particularly fond of cookie wedding favors. Read on to see some of our favorites!
Chocolate-Covered Oreos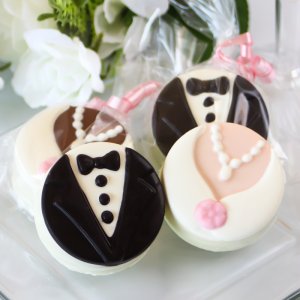 Seriously, who doesn't like Oreos? Take the legendary cookie to the next level by adding a delicious layer of chocolate in the form of a wedding design, and you've got a truly awesome favor for your guests to devour.
Customized Fortune Cookies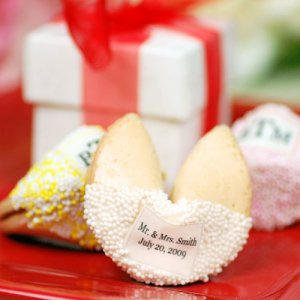 These fortune cookies go the extra mile, featuring colorful sprinkles along with your unique message on the cookie's exterior. For the special fortune inside the cookie, select one of our standard messages or input one of your own.
Personalized Photo Cookies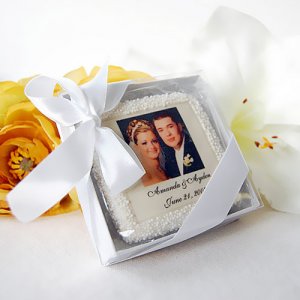 You rarely get a good opportunity to have your face on a cookie. But on one of the biggest days of your life, why not go all out? Choose between a fondant or white chocolate coating for these delicious cookies. Then add up to two lines of custom text below the photo for an impressive cookie that people will be talking about for a while. The "frame" of each photo consists of a custom blend of sprinkles. Make these favors even more elegant by choosing for them to each come with a small box and a ribbon.
Customized Cookie Jars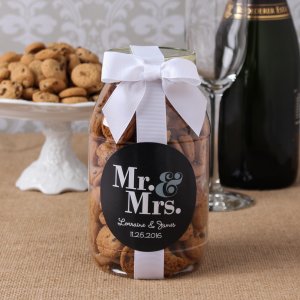 These cookie favors are sure to be a hit, whether you place them with the other desserts or showcase them at each table. Select the container size that's best for your wedding, with options ranging from 5 oz. to 40 oz. of delicious cookies. Each container will be affixed with a bow and a sticker featuring the custom text of your choosing. Choose between chocolate chip, plain janes, and brownie crisps.
Wedding Cake Cookies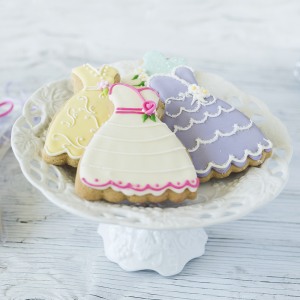 With a range of designs (dresses, wedding cakes, and more) available for these scrumptious cookies, it might be hard to decide on your favorite. They can even be printed with guests' names and their respective table numbers to serve as escort cards. You can select between petite and large cookies for some designs.
Custom Macarons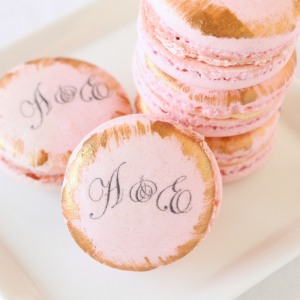 Whether your wedding features a Parisian theme or you just love the taste of a good macaron, these cookies are a lovely treat. Coming in a dozen color options and eight flavors, these macarons are easy to align with your taste and visual preferences. Customize them with the bride and groom's initials.
Customized Cartoon Cookies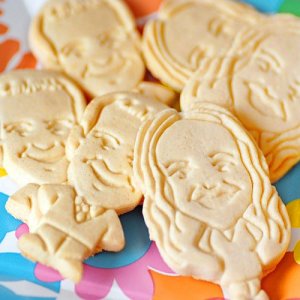 Among the more unique favors you're likely to see, these cartoon cookies feature the likenesses of the bride and groom. Submit a clear, high-quality picture of the couple for the utmost accuracy of the final product. Each package comes with six vanilla-flavored cookies.
Mini Brownie Pops
Brownies may not fall into the cookie category, but these brownie pops are so delicious we'd feel bad about not mentioning them here. The chocolate exterior and the brownie interior combine to create a quite remarkable flavor. Choose from white chocolate, milk chocolate, or dark chocolate options for the taste that'll best suit your event.
Whatever cookie wedding favors you decide to go with, we hope they help to make your day as sweet as you've always imagined. To help you get there, Beau-coup has all the favors and decor necessary to add your own unique spin to the occasion.