In the past, spring was known as wedding season, with lots of weddings taking place in April, May, and June. Some people may still think of the spring and summer months as being the busiest time of year for weddings, but the data actually shows that fall has surpassed them as the most popular wedding season, with many of the most-picked wedding dates of the last couple years falling in September and October. In this post discussing the pros of a fall wedding, we delve into several reasons that could help explain the popularity of fall weddings.
Gorgeous Surroundings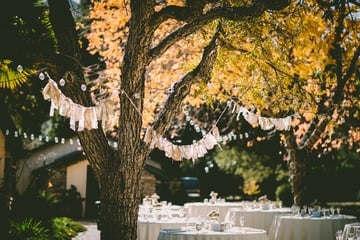 With wedding photos being such an important part of the occasion, it's understandable why so many couples are opting for fall weddings. With rich hues of golds, browns, reds, yellows, and oranges, the fall palette is jaw-dropping and offers a lot of flexibility in terms of decor. The same beauty will hold true for your flower selections, of which there are so many stunning options to choose from and mix and match to achieve your desired look. You won't be able to take your eyes off the photos taken on your magical fall day. Barn weddings tend to be popular during this time of year too.
Potentially More Affordable
Though more and more lately the most popular wedding dates are landing in fall, many venues, vendors, and rental services are still operating on the assumption of late fall being the beginning of the "off-season," which often means better pricing for couples looking to tie the knot during that period.
Comfortable Weather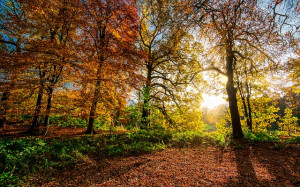 Though you might catch some of the lingering heat of summer or find a brisk chill in the air, fall weather tends to be more moderate and manageable than a scorching summer wedding or a cold and snowy winter wedding. To plan for when the weather is ideal and not too cold, lots of couples try to shoot for late September or early October. Plus, with all of the time that goes into developing the perfect look, lots of brides appreciate knowing they won't have to deal with the makeup-ruining sweat or hair-frizzing humidity that can make summer weddings frustrating. 
Unique Menu Options
With fall being harvest season, you'll have a lot of options when it comes to putting together your menu. Think lots of warm, comforting, and flavorful foods but nothing so hearty that your guests will want to nap instead of dance! For dessert, you can't go wrong with seasonal favorites like pumpkin and apple pie and donuts. Here are a bunch of great ideas of fall foods you could serve!
Good Turnout
Depending on your friends and family and the wedding date you select, you can get lucky with guest turnout. You'll be planning for a time between summer vacations and the holiday season, so you should be able to avoid those major sources of conflict. This gives fall weddings an advantage in terms of often allowing couples to have a high percentage of their invited guests show up to celebrate with them.
Drawbacks of Fall Weddings
To give a more complete picture, we also wanted to discuss a few of the problems that can crop up for couples who are considering a fall wedding. One issue, which we've briefly touched on, is that fall has become very popular for weddings. This means that, particularly if you're aiming for one of the coveted late September-October dates,  your special day could end up being quite expensive. With so many other couples trying to wed during this time, you may also find that your first choices for vendors and venues are booked up if you haven't planned well in advance. Another factor is that if lots of your guests have already attended other fall weddings, they may be less excited to be there for your day. While plenty of fall days are perfect, one more potential concern is weather that's not exactly ideal. Especially toward the end of fall, some parts of the country can be quite cold and even snowy.
After reading about some of the pros of a fall wedding (and a few drawbacks), do you agree that it's a wonderful season for tying the knot? Feel free to tell us in the comments all about your experiences with fall weddings. And don't forget to shop our selection of fall-themed wedding favors!
For our opinions on spring and summer weddings, take a look at these posts!