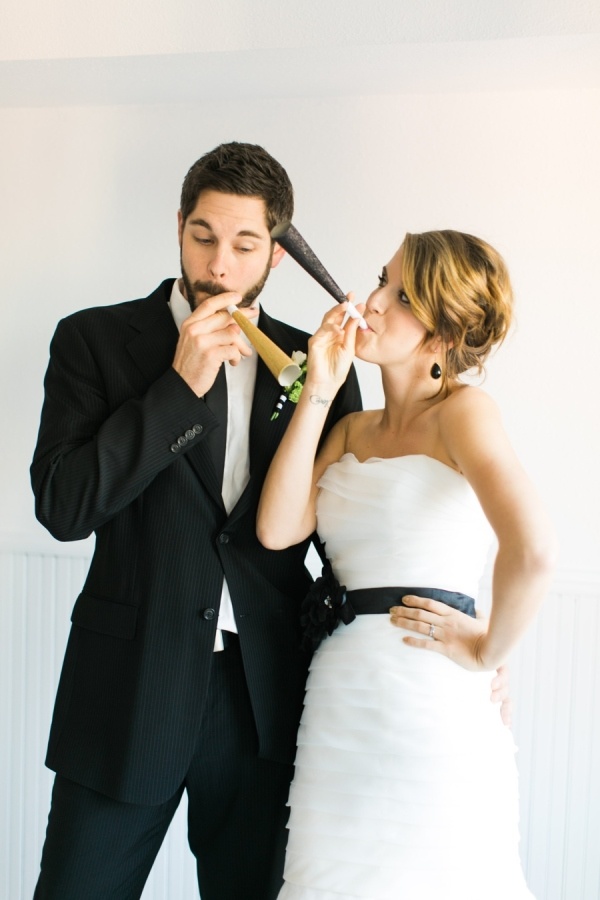 What better way to start your new life (and the new year) than with a New Years Eve wedding that totally rocks? It's the perfect opportunity to gather all your loved ones and celebrate into the night. And when we think New Years Eve, we can't help but think of a glamorous black and gold color scheme, glitter, confetti, apple cider, and lots and lots of fun. We actually love the idea of a New Years Eve wedding so much, that we decided to base our newest wedding collection – At Last – off the holiday. We love how it somehow feels modern, sophisticated, glitzy. and glamourous all at the same time, and it gave us the inspiration to share some of our very favorite ideas with you for a rockin' black and gold New Years Eve wedding. Keep scrolling to get a glimpse at out favorite ideas!
Invitations
Set the mood for your stylish New Years Eve wedding, with invitations featuring pretty script font, and touches of black and gold. We especially love the addition of gold sequins!
Attire
Have fun with your shoes! A touch of color or sparkle is the perfect way to add extra glamor in a subtle way.
Have your bridesmaids dress in sparkly metallics. Nothing says New Years Eve dress quite like a glittery, gold piece and the ones above pull it off while still managing to look classy. Go for a longer dress so that it feels more "bridesmaid", less "clubby" and don't be afraid to have them wear a variety of gold hues.
Last but most certainly not least, don't forget about the groom and his groomsmen. Wearing a gold vest or bow tie really pops against a black suit and looks very classy.
Streamers & Noise Makers 
Streamers and noisemakers are a great way to add some fun to any attire or decor! We love the idea of placing them in the bride's bouquet and having the groom use one as his boutonniere. You can also keep noise makers handy on tables for your guests to grab at midnight, and can use them as place cards too!
The Tables 
Try setting your tables with pretty metallic gold dishes and utensils paired with accents of white and black. We also love the idea of using this pretty gold glitter favor box in the table setting. It looks great against the black napkin, and because it's set with the table, guests will immediately see their favor when they sit down to dine.
Using table numbers to write out New Years resolutions is such a great idea! Be as funny or wise as you wish with creating these.
The addition of gold to these glasses is subtle yet so pretty! You can even create these looks yourself. Let us show you 3 easy ways to design elegant looking glassware featuring gold paint.
If you're looking for personalized glassware that's both practical and stylish, then these personalized stemless wine glasses are just what you need! Keep these handy on your guest's tables and let them know that they get to take theirs home as a favor.
Clocks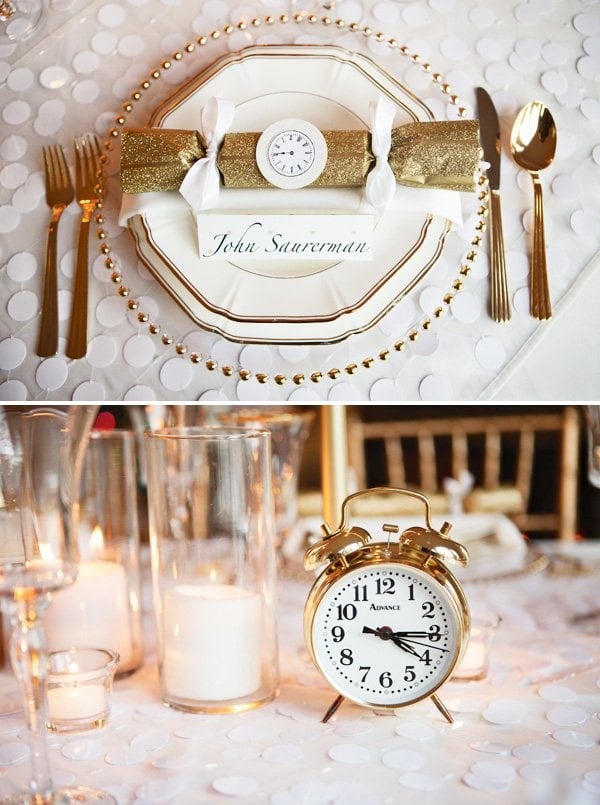 Clocks are great decorations for any New Years Eve themed wedding whether simply using as a prop or incorporating in the table setting.
For any black and gold  New Years Eve wedding, you can't forget a beautiful cake featuring your wedding hues. The love cake topper  or a personalized cake topper are an extra special addition.
Photo Booth
Having a photobooth is not only a great way for you and your guests to remember the night of your wedding, it's also a great way to remember the very last night of the year! Try having pretty backdrops such as gold streamers,  black pinwheels, or gold, and white pinwheels and don't forget the fun photo props!
Midnight Ideas
When midnight strikes, have your guests throw tons of beautiful confetti into the air to celebrate! You can have poppers available or host a confetti bar, where guests can create confetti cocktails – a mixture of their favorite types of confetti.
Don't feel like leaving confetti behind? Opt for bubbles instead! They're less messy and just as fun – especially these champagne bubbles!
Have champagne and apple cider available to your guests. That way you can all say cheers when the clock strikes midnight.
Sparklers are so much fun to light, look beautiful, and make for awesome photographs. Try having sparklers available for your guests to light at midnight.
Encourage your guests to give their sweethearts a New Years kiss! After all, is there any better way to start off the new year than with the one you love?
Favors 
Your guests will love receiving a practical favor such as these gold glitter bottle openers.
Last but definitely not least, if your favors need some packaging than go for boxes or bags that tie in with your theme. The packaging really is half the fun!
Are you planning on getting married on New Years Eve? Or are you planning on a black and gold themed wedding? Which of these ideas is your favorite? We would love to hear what you think, so please feel free to leave a comment below!