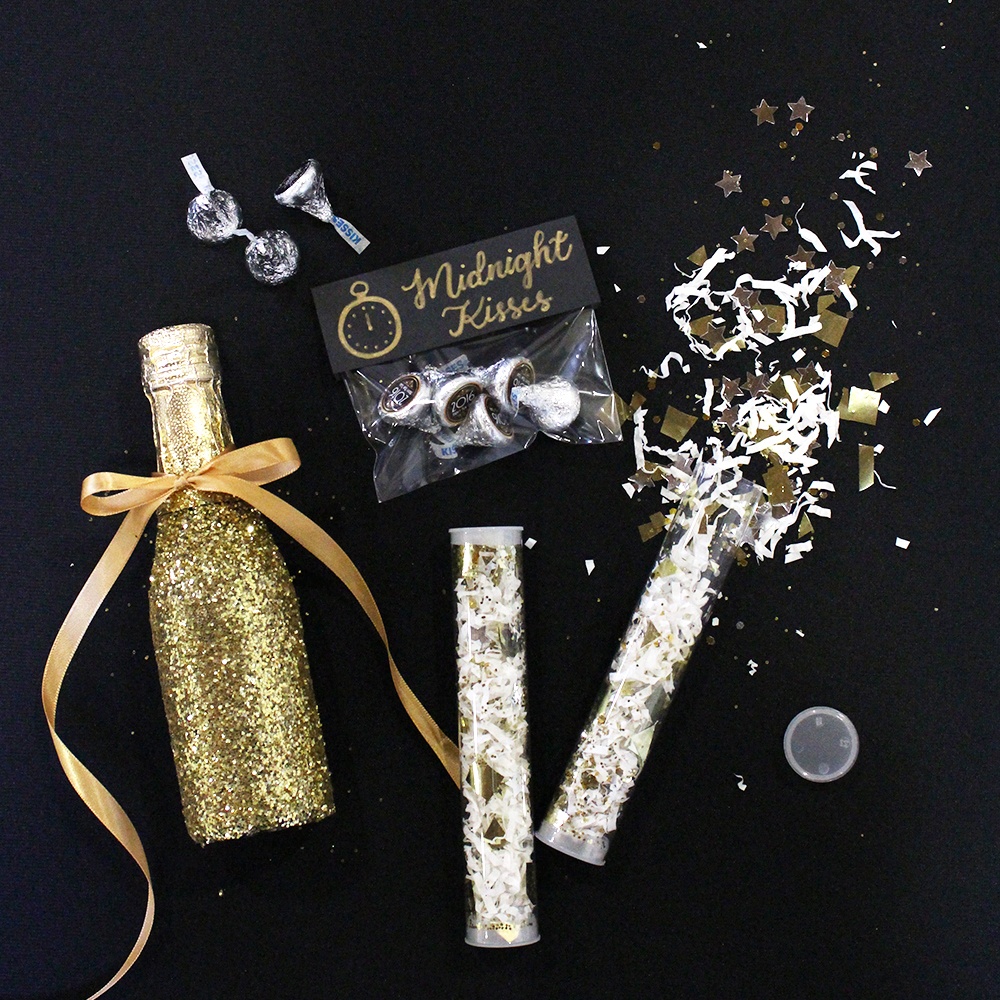 Happy (almost) New Year! With 2016 less than three weeks away, it's time to prepare for a festive and glitzy New Year's Eve party! And we've come up with 3 great DIY New Year's Eve party favors to hand out to your guests. Inspired by our glamorous black and gold wedding collection, At Last, your guests will love these pretty, shimmering favors! Take a peek at our three ideas and get inspired to make your own for your upcoming party.
Chocolate Midnight Kisses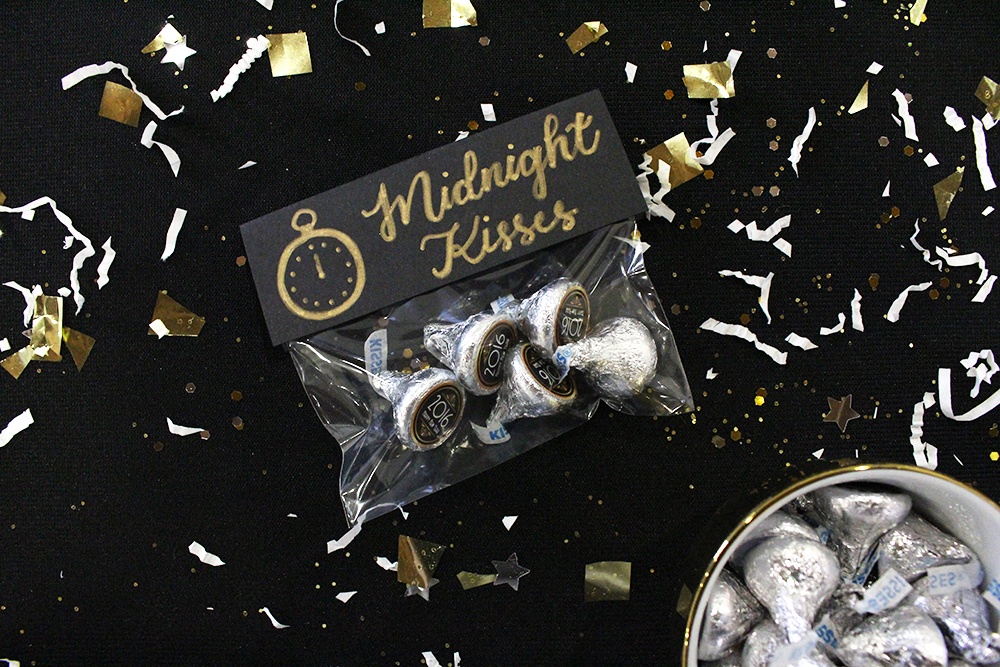 Here's what you'll need:
Plastic favor bag
Black construction paper
Gold sharpie
Stapler
Glue or tape
First, grab a few Hershey's Kisses (we especially like these Personalized Holiday Hershey's Kisses), stick them into a plastic favor bag, and staple the top closed. Next, cut your black construction paper so that it fits across the top of your  bag and can be folded over both sides. Now that you know where your fold is, draw your own design or write a message onto the paper with the gold sharpie. Your last step is to secure the paper to the top of the plastic bag. We decided to use glue because we didn't want the staples to show, but you can just use a stapler or tape if you prefer. That's it!
Gold Glitter Champagne Bottles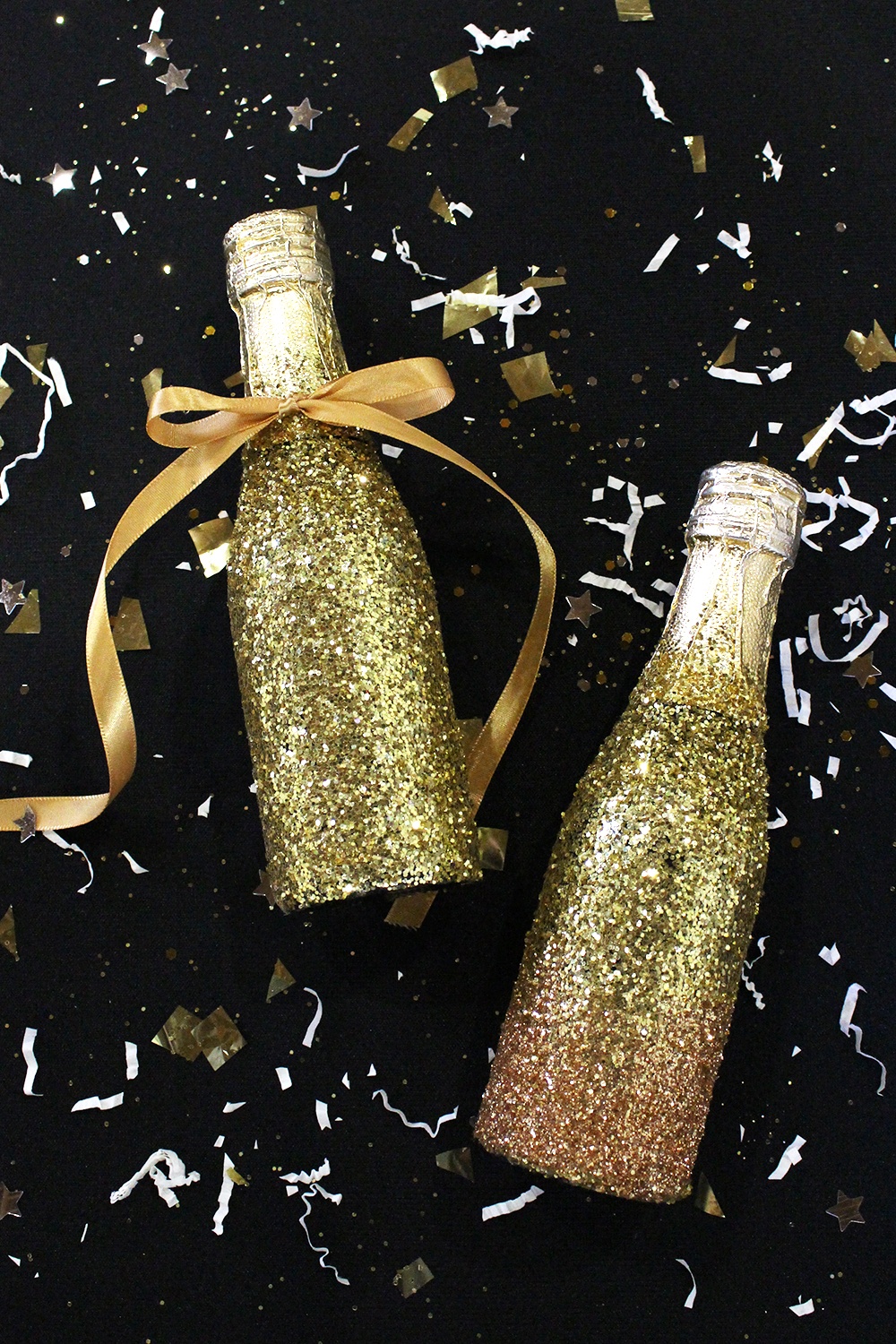 Here's what you'll need:
Start off by spraying your bottles with the spray glue. If it didn't come out evenly or if you missed any spots, spread the glue with a paintbrush. (Make sure you do this over paper, outside, or in a box like we did so you don't get excess glue everywhere). Let the glue set on the bottle for about 5 minutes and then just add glitter! We thought it was easiest to make a pile of glitter on construction paper to roll the bottle in, then we used our fingers to sprinkle glitter on any leftover bare parts of the bottle. Your last step is to spray the bottle with sealer so that the glitter stays put. Let it dry, tie on some ribbon, and voila! (If you would like to see step-by-step instructions with photos, check out our original DIY: Gold Glitter Champagne Bottles post).
Confetti Poppers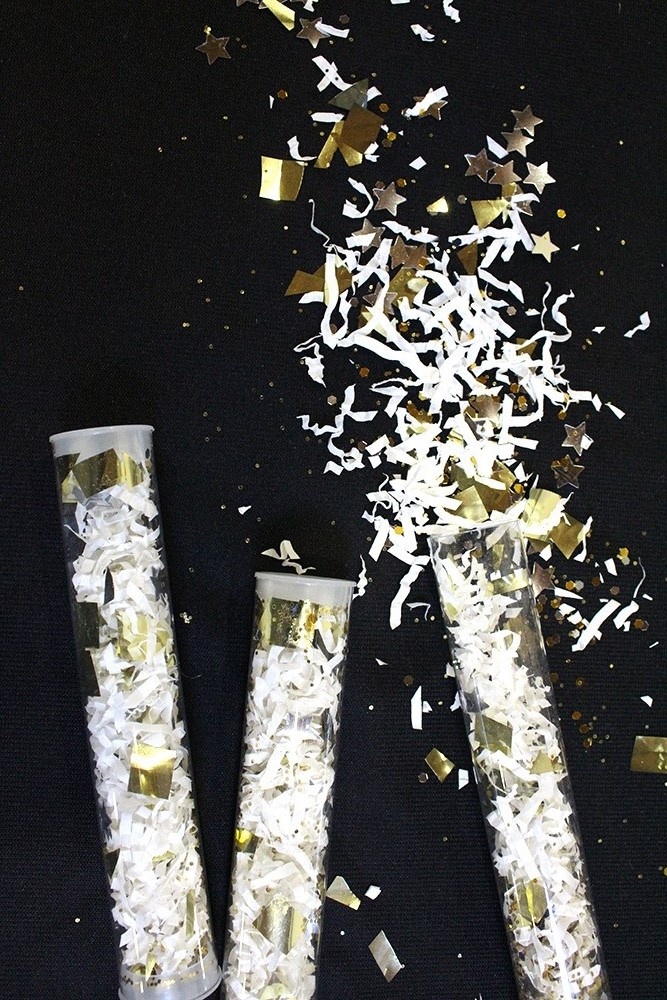 Here's what you'll need:
This may be the easiest project yet. All you have to do is simply open the lid of the plastic tube, add in your favorite confetti, and secure the lid back on. Now your guests can either take it home as a favor or have an easy way to get a hold of confetti to throw when the clock strikes midnight!
Which of these New Years Eve favors is your favorite? Will you be hosting a New Years Eve party? We would love to know how you're celebrating so please feel free to leave us a comment below. Happy Holidays!