Did you decide last minute to host a Cinco de Mayo party? Don't stress! With a few simple supplies and ingredients, it's easy to throw an amazing party full of fun decorations and tasty treats! To help get you prepped for your party, we went ahead and rounded up some of our favorite DIY decorations, recipes, and favor ideas. All simple to make! Take a look at our picks below and get ready to host the best fiesta ever!
DIY Decorations
With just construction paper, scissors, tape, and an empty, clean bottle, it's easy to create this DIY cactus centerpiece. Simply cut green construction paper in thin horizontal strips. To get the crinkled look, fold the cut strips of paper back and forth. Then stick the crinkled strips inside the bottle. Next, draw the cactus arms and flowers. Cut out and secure to the bottle using tape.
To create these DIY fiesta flowers, all you need is three bright colors of tissue paper (each flower is made with 3 sheets), ribbon, and scissors. First, lay 3 different colors of tissue paper on top of each other. In about 2 inch sections, fold the layered papers back and forth, and then cut a small triangle on each side of the middle. Next, tie a piece of ribbon around the middle (in the triangle indentations). Your next step is to pull each sheet up starting with the top sheet. (Be careful not to tear the paper!) Once spread out, flip it over and twist the bottom piece together. then tie a ribbon around the bottom to secure.
To make these festive Cinco de Mayo napkins rings, all you need is brightly colored tissue paper, toilet paper or paper towel rolls, glue, and scissors. First, cut strips of tissue paper about 3 inches wide. Fold your stack of tissue paper strips in half (length wise) and then in half again. You should end up with about a 4 to 5-inch-long rectangle. Now, cut each long edge of the rectangle about every 3 inches, making sure to you leave about an inch of untouched tissue paper in the middle. Unfold, and separate the tissue paper. Cut each toilet paper roll in half and carefully glue tissue paper fringe to the roll one at a time. Start at the bottom of the roll and work your way up, covering the roll completely. Let dry and pull napkins through.
For festive utensils, all you need is paint, a paint brush, and plastic forks, knives, and spoons. Simply choose your favorite colors of paint and use a paint brush to add pops of color to the bottom of the utensils. Let air dry and you're all set!
Use 12″ green balloons, 9″ green balloons, pink pom poms, string, a hot glue gun, and a sharpie to make these fun cactus balloons. To create the main part of the cactus, inflate one 12″ balloon with helium and tie the bottom with string. Next, inflate two 9″ balloons about halfway to create the "arms." Tie the 9″ balloons, and trim off most of the end.  Now add a dot of hot glue to the base of the 9″ balloons and position them on the 12″ balloon, holding in place for a few seconds in order to let the hot glue dry. Next, take your sharpie and draw "spikes" onto each of the balloons. Your last step is to add a couple pink pom poms on the "arms." Again, use hot glue, and hold it steady on the balloon for a few seconds in order to let the glue dry.
Easily create your own photo backdrop using a few simple items. For this project, you'll need colorful tissue paper, 4 poster boards, scissors, packing tape, and push pins. First off, use packing tape to tape your 4 poster boards together. Making sure that all of your tissue paper is the same size, fold tissue paper in half lengthwise and create fringe by cutting straight lines up the tissue paper starting on the end that isn't folded. Be sure to leave two inches uncut at the top. Repeat this process with as many colors of tissue paper as you like. Tape fringe to the poster board starting at the bottom and working your way up. Make sure you cover all of the poster board. Then pin your board to the wall using push pins.
This is the simplest decoration project yet! For beautiful centerpieces, all you need are your favorite flowers, water, and some clean, empty cans. We love the idea of using a can that once held chilies, tomatoes, salsa, or jalapenos. Simply rinse out cans until no residue is left. Fill with water, add your favorite flowers and you're all set. Want some flower arranging tips? Check out our flower arranging tips blog post.
Easy Food and Drinks
This gorgeous drink is called the Island Mango Mezcal Breeze, and not only is it pretty, but delicious too! Plus, it only takes 5 or so minutes to make! First, run a lime wedge around the rim of each glass and coat in salt. An easy way to do this is to pour salt in a bowl and then dip the glass into the bowl. Next, combine 1/4 cup mango juice, the juice of half a lemon and half a lime, 1.5 ounces of Mezcal, 1.5 ounces of tequila, and a pinch of chili powder in a shaker. Fill the remainder of the shaker with ice, shake, and strain into your salt-rimmed glasses. Finish by topping with sparkling water. Delicious!
For non-alcoholic drinks, we suggest providing beverages such as horchata or mango juice. Still festive, these drinks are both delicious and will surely get your guests into the Cinco de Mayo spirit! While not necessary, we suggest providing non-alcoholic drinks in drink dispensers filled with ice. It makes for a beautiful presentation and makes it easy for guests to grab drinks as needed.
Delicious and so easy to set up, we suggest treating your guests to a burrito bar! For this idea, you'll need bowls to display each item of food, bowls for eating out of, utensils, and of course your favorite ingredients. Some ideas for ingredients include diced chicken, chilies, salsa, peppers, olives, tomatoes, shredded cheese, black beans, rice, avocado, lettuce, corn, and hot sauce.
Before the main course, treat guests to chips paired with salsa, bean dip or queso! We happened to come across this simple recipe and think it would make a great appetizer. Called the Zesty Refired Bean Cheese Dip, this recipe uses 15 ounces of black beans, 8 ounces of cream cheese, 1 packet of taco seasoning, 15.5 ounces of salsa, 2 cups of shredded cheese, and 1 sliced jalapeno. Preheat your oven to 350 degrees. While your oven is heating up, combine refired beans and cream cheese in a microwave-safe bowl. Heat until warm enough to stir together easily. Add taco seasoning to the bowl and mix. Now spread the mixture onto an 8×8 baking dish and top with salsa, cheese, and jalapeno slices. Bake for 25 minutes, let cool and serve with tortilla chips. It's so simple, anyone can make it!
Simple Party Favors 
As a simple party favor, we suggest handing out mini bottles of patron! Trust us when we say that guests will get good use of it. As a fun extra, you can even use these favors as a place setting at your party. We designed our own look for a tequila place setting that's both simple and fun. Perfect for a Cinco de Mayo Party!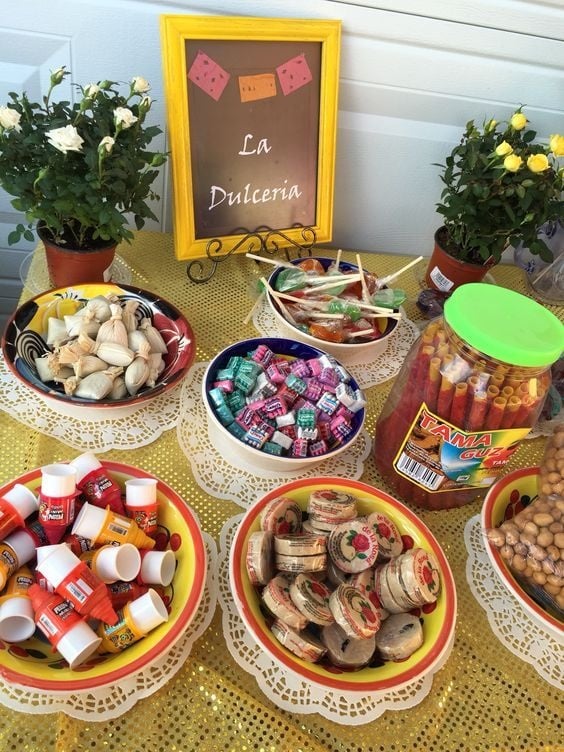 Doubling as both a favor and dessert, set up a simple candy bar station with just a few simple items! Grab some brightly colored bowls, goodie bags, and of course your favorite Mexican candies. A few of our favorite candies include  De La Rosa Marzipan Peanut Candy, Vero Mango Con Chile, Lucas Guaso Tamarind Flavored Liquid Candy, and Canel's Minature Chewing Gum.
Which of these projects do you plan on tackling for your Cinco de Mayo party?