It's National Oreo Cookie Day and we couldn't help but celebrate with a tasty DIY! Personally, we love it when couples put a twist on their wedding desserts – and with Oreos on our mind, we knew we wanted to create something featuring the beloved cookie. And so we give you the DIY Oreo Cookie Wedding Cake In A Jar. Convenient, simple, and oh-so-delicious, your guests will love this sweet idea! Just add a little personalization such as ribbon or  tags. You can even use personalized jars to make this your own. Keep reading to see how we made this treat and don't forget to check out a few of our favorite Oreo-inspired desserts such as chocolate covered Oreo pops and an Oreo cookie tower below. Enjoy!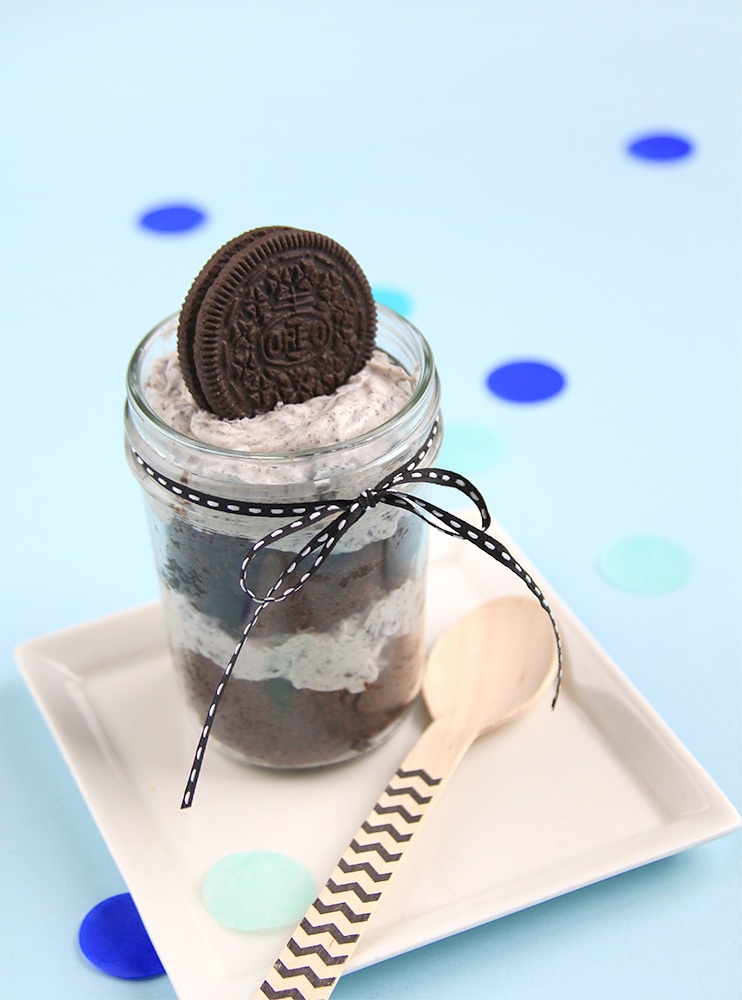 Here's what you'll need:
Oreo cookies
Chocolate Cake
White Frosting
Ribbon
Plastic sandwich Bag
Spoon
Bowl
Directions:
First, bake or buy a chocolate cake and cut a piece so that it fits in the bottom of the jar. Next, fill a plastic sandwich bag with a few Oreo cookies, seal the bag closed and crush the cookies inside the bag. Grab your bowl and fill with a spoonful of white frosting, pour your crushed Oreos into the same bowl, and use a spoon to mix. Spoon a layer of the Oreo and frosting mix into the jar, top with another layer of chocolate cake, and finally another layer of frosting. Tie a ribbon around the jar, add a whole Oreo cookie to the top layer of frosting for garnish and you're all set! Want more Oreo-inspired desserts for your wedding? Keep scrolling to see some of our favorites.
Are you thinking of serving a form of Oreos at your wedding? Which of these ideas would you go with?