Alexis and Ryan enjoyed a long engagement which gave them plenty of time to personalize every aspect of their wedding.  A confident, clever and effervescent gal, it's no surprise to us that Alexis pulled off one of the most unique and memorable weddings we've seen in a long time.
Date:  April 30, 2010
Location:  Nestldown – Los Gatos, CA
Photography:  Ming Ho Photography
We were married in the middle of a redwood forest in the Santa Cruz Mountains, and were lucky enough to have clear, crisp weather on the big day.  We made sure nothing about our wedding was "generic" and that every detail was personal.
I created hairpieces for my bridesmaids and myself, including my vintage inspired birdcage veil.  Rather than having matching dresses, I asked each bridesmaid to choose a red dress they felt great in.  The groomsmen wore black suits, and converse sneakers because Ryan and I bonded over our love of Chuck Taylors when we first started dating.  Ryan and I wrote our own wedding vows, which made the ceremony so much more special to us.  We had our 12 pound terrier, Muffin, act as the flower girl, and even she got to wear a handmade hairpiece!
Our cake was made with love by our friend, Carrey Ward.  It was red velvet and I was worried about staining my dress or ruining my makeup, so when it came time to serve cake to each other, Ryan and I pulled out safety goggles and clear ponchos for protection.
For wedding favors, we presented chocolate hearts made by Ryan's sister in black gift boxes with damask ribbon.  We included a note inside each box to let the guests know that we also made a donation on their behalf to the American Heart Association to commemorate Ryan's father.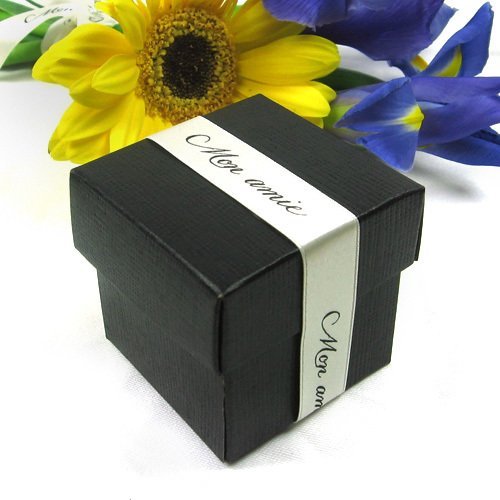 We also gave away "RSVP" awards.  We received so many response cards with cute little notes or drawings, that Ryan came up with the idea to give awards for the best cards.  We gave away bottles of wine & beer for the "Most Nostalgic," "The Funniest" and the "Latest" RSVP's.
Nestldown is a very unique wedding site, and our guests had a blast riding a mini train through the property, playing in the tiny fairy tale house, and exploring the grounds.