Your bridesmaids are your best friends. The ones you love and trust most in this world and the ones who have been there for you through all your wedding madness. We have a feeling they've been put to work, and we think that thoughtful gifts go a long way to show your appreciation for everything they do! We sent our creative team on a mission to curate 5 themed bridesmaids gift totes that we think will be perfect for your besties, no matter what they're into. Each collection is paired with a stylish tote bag – another gift in itself! She will absolutely appreciate the gesture and be flattered by how well you know her.
The Beauty Queen
She's always up for a manicure or massage, and loves to feel relaxed and glamorous! Pamper your beauty queen with items that will make her feel even more beautiful then she already is. She'll be thankful to have all her spa necessities right at home.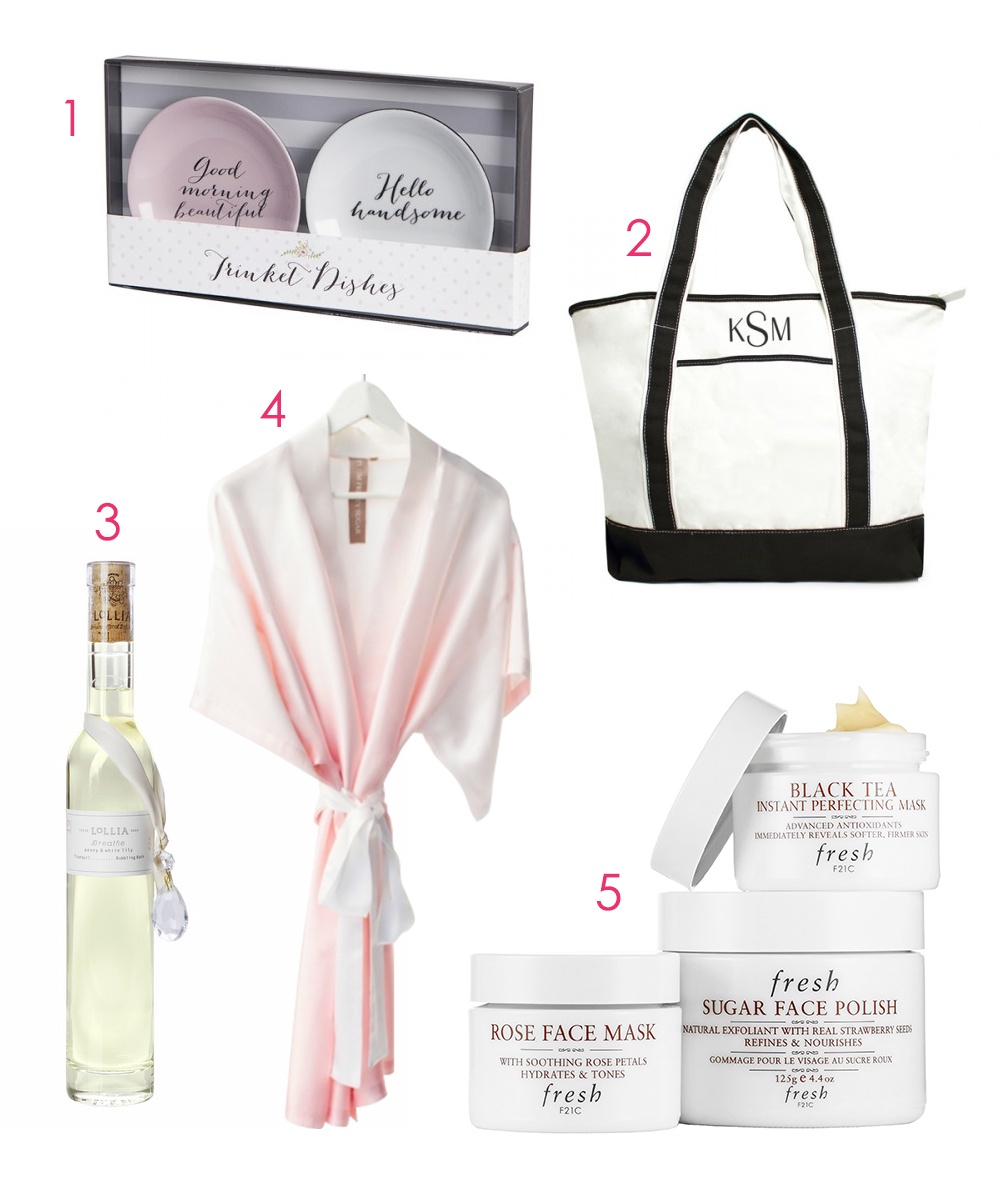 1. Trinket Dish Duo 2. Personalized Weekender Tote Bag 3. Breathe Tranquil Bubble Bath 4. Silk Ombre Robe  5. Fresh Face Mask Essentials Trio
The Foodie

Gourmet is her thing – fondue, caviar, macaroons… you name it! She's always excited about trying new foods, so she will love a hand picked bag of goodies from you!  Her taste buds will definitely be satisfied.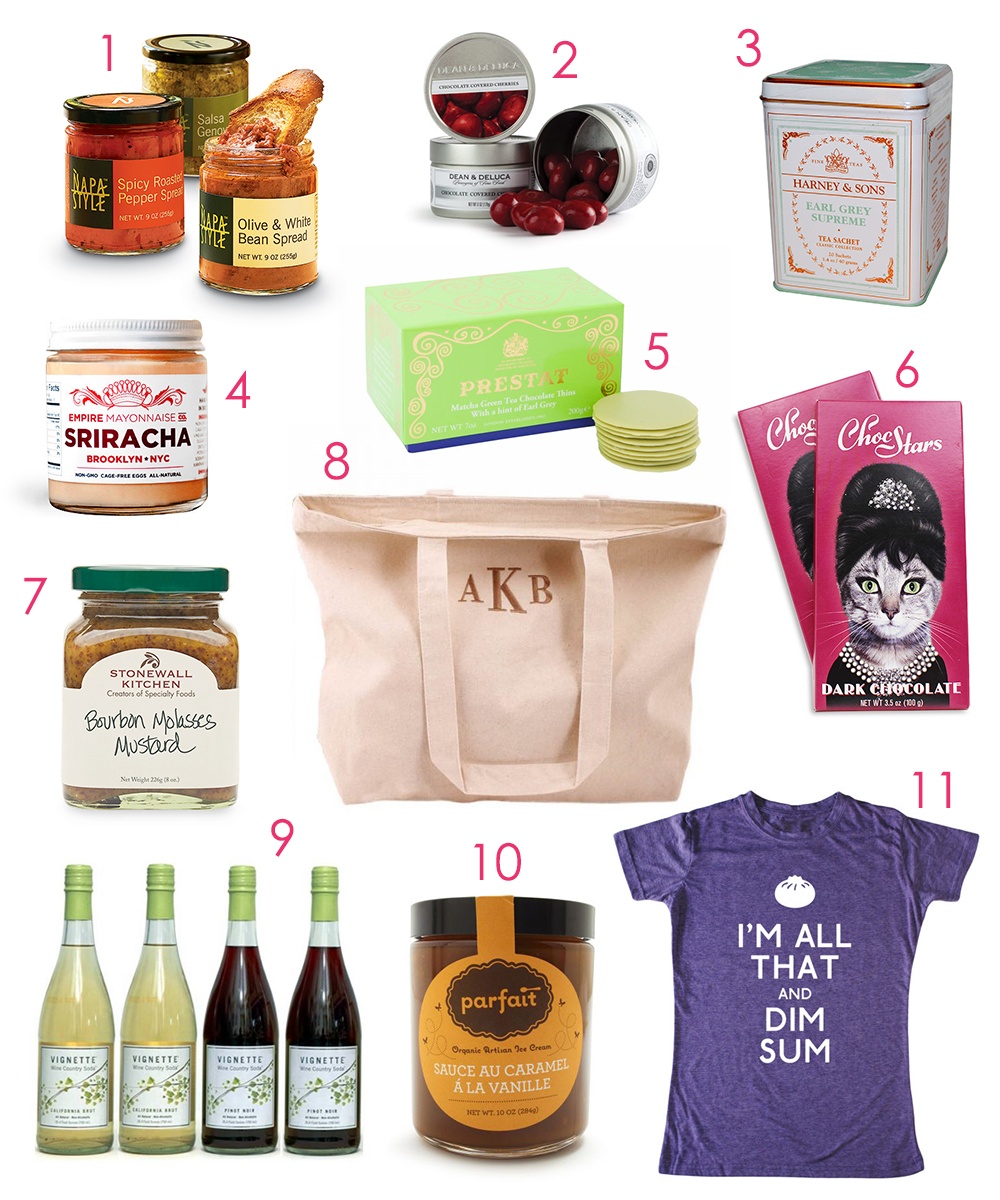 1. NapaStyle Bread Spreads  2. DEAN & DELUCA Chocolate Covered Cherries  3.  Gourmet Tea Tins  4. Sriracha Mayo 5. Prestat Matcha Green Tea Thins 6. Choc Stars Bars  7. Bourbon Molasses Mustard  8. Personalized Tote 9. Vignette Wine Country Soda  10. Parfait Ice Cream Vanilla Caramel Dessert Sauce  11. I'm all that and Dim Sum tee 
The Cook
This girl's favorite room in the house is the kitchen. She loves to try new recipes, host dinner, and try out new kitchen gadgets! We suggest these gifts to keep her cookin'. She's never going to want to leave the kitchen!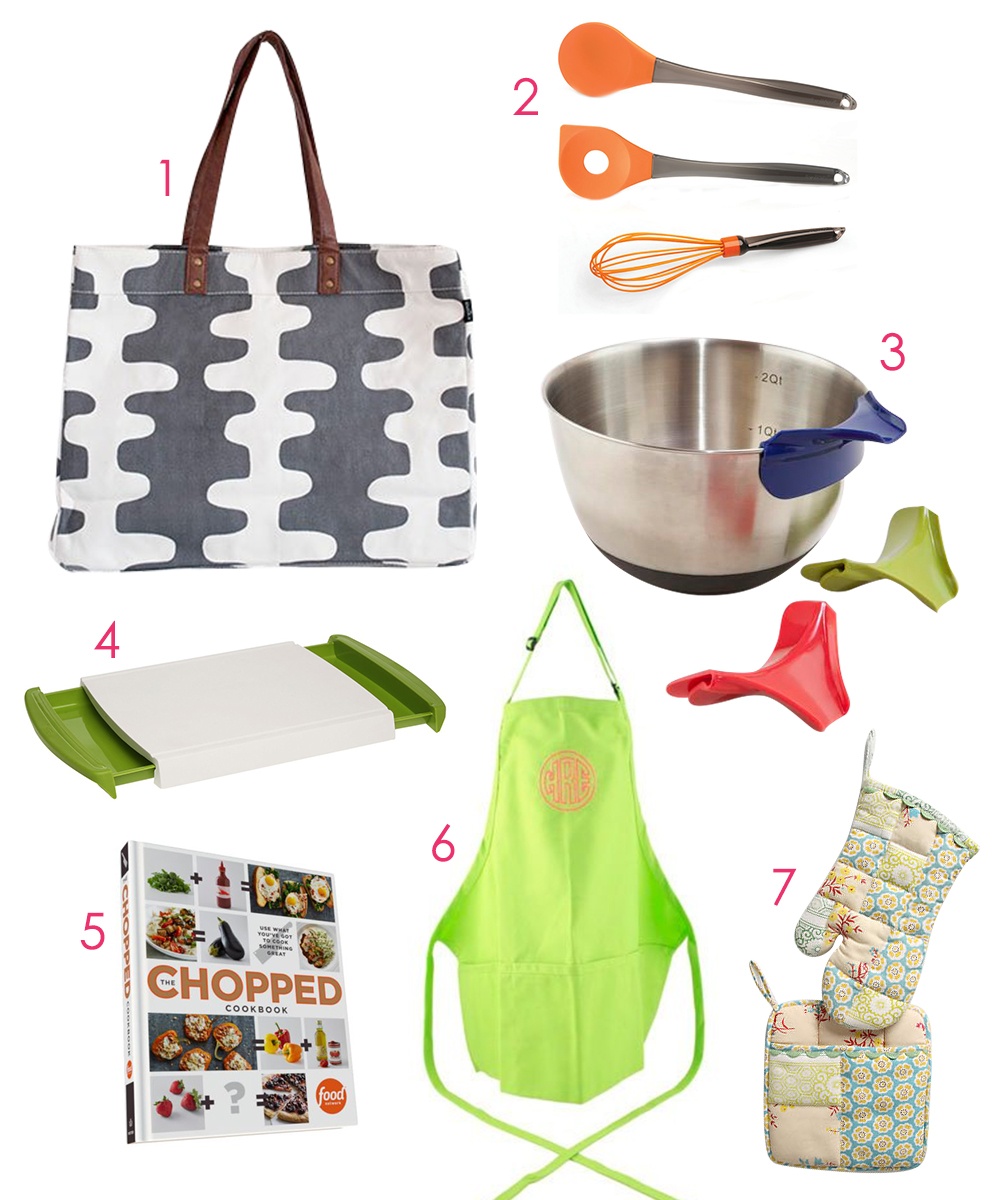 1. Canvas Tote Bag  2. Berghoff Geminis 3-Piece Spoon and Wisk Set 3. Silicone Pour Spouts  4. Truedeau Chop 'n Clear Cutting Board 5. The Chopped Cookbook  6. Personalized Apron  7. Sewing Basket Potholder, Oven Mitt 
The Paperphile
Stationary and crafts are this girl's thing! She loves a great notebook and pretty paper, we bet she even makes all her own cards. She will love items that let her add extra details to her projects. Now she can make her prettiest work yet!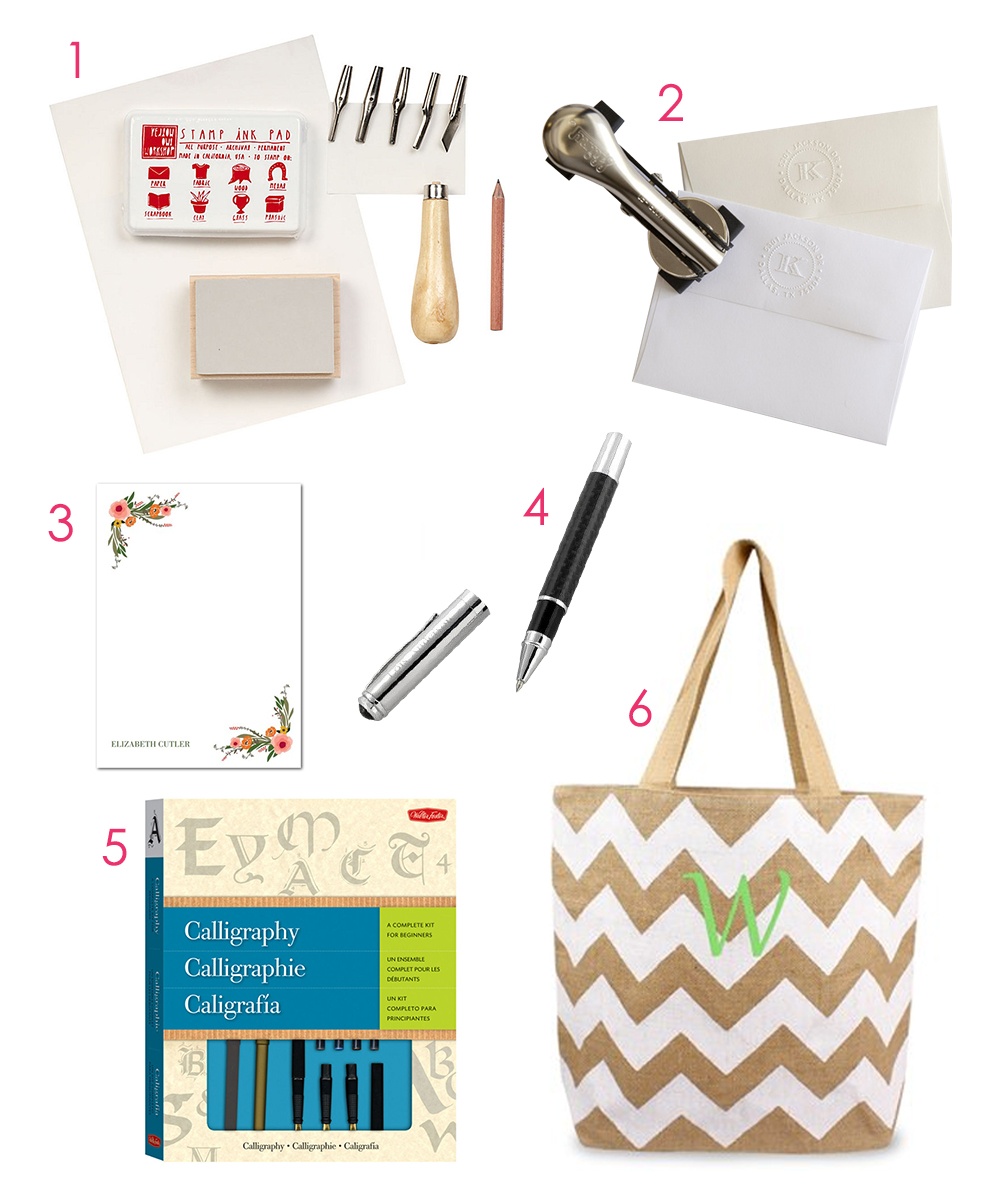 1. Carve-A-Stamp Kit    2.  Dotted Delivery White Embosser  3. Floral Feeling: Evergreen Personalized Notepads 4. Personalized Carbon Fiber Pen 5. Calligraphy for Beginners Kit 6.Personalized Color Natural Jute Tote Bag 
The Globetrotter
You're lucky you got her to your wedding because this girl is always on the go! Packing for trips can get tricky, so we suggest giving her a few staple items. She is sure to love anything that makes her trip more convenient, and memorable. Now she's ready for her next adventure!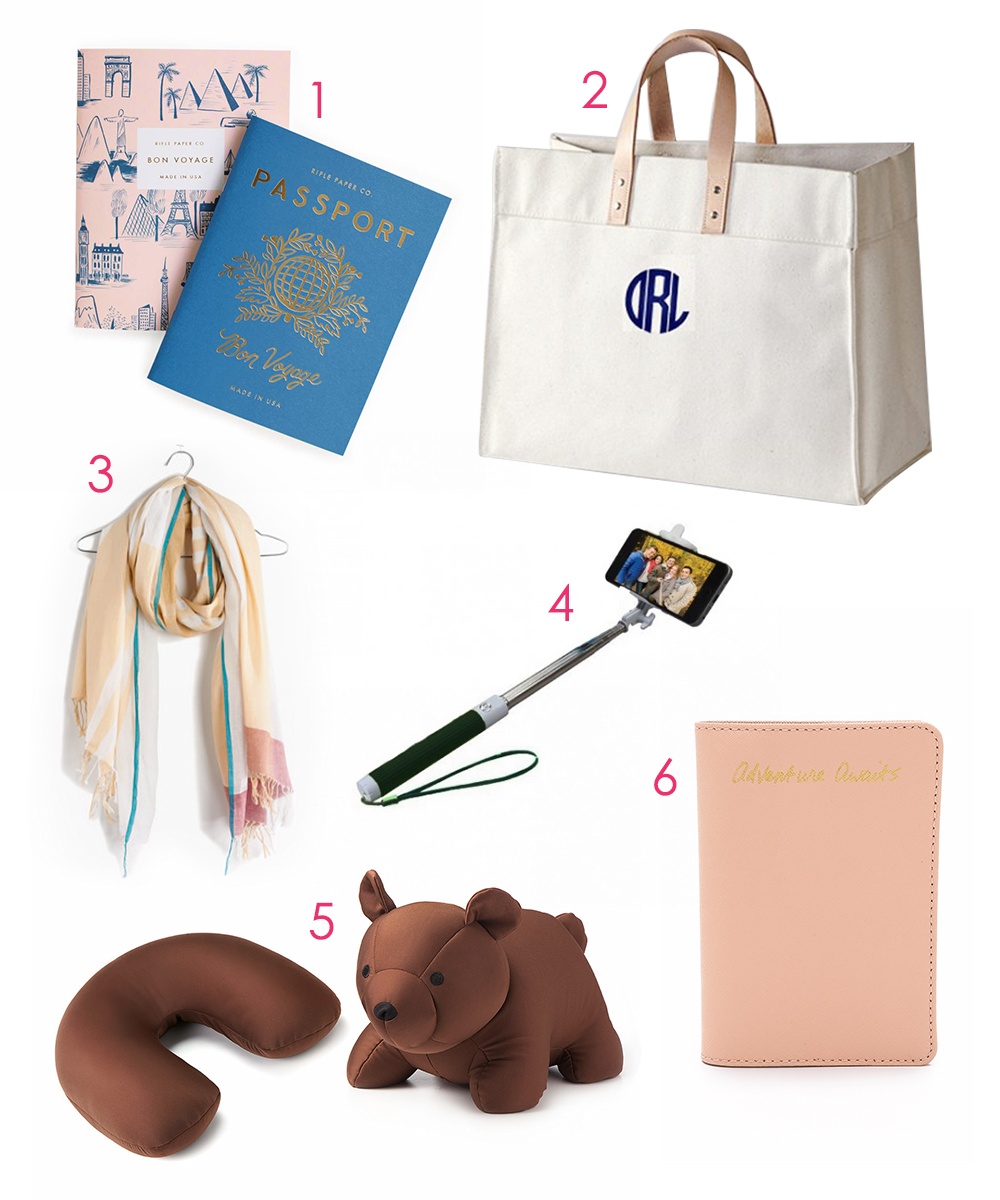 1.   Passport Pocket Notebooks 2. Personalized Canvas Tote Bag  3. aish Modernist Scarf 4. The Selfie Stick 5. Travel Pillow 6. Rebecca Minkoff Passport Holder