With the holidays only a few weeks away, we know that finding the perfect gifts for everyone on your list has been on your mind. It's been on ours too—so we decided to share a selection of gifts and favors that we plan on giving (or would love to receive ourselves) this holiday season. Hand selected by the Beau-coup team, we hope our top picks inspire you to find the perfect gifts for your family and friends.
1) Star Wars Cufflinks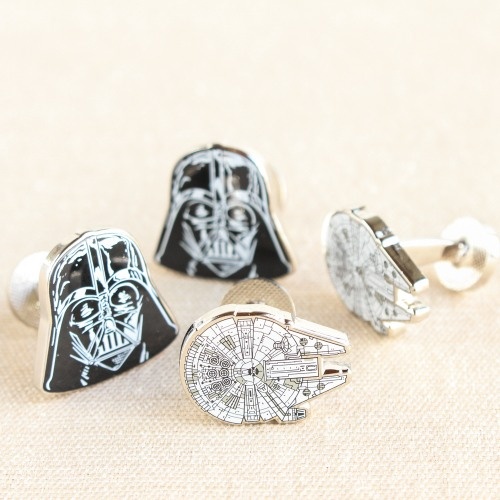 "I am ordering these for my brother as he is a Star Wars nut and I know he'll love them!" – Johnnie, e-commerce associate 
Love them he will. Whether you have a "Star Wars nut" in the family, or you're a groom-to-be who wants details from the beloved saga in your wedding, these Star Wars cufflinks are a simple-yet-fun way to pay tribute to Darth Vader, R2D2, the Millennium Falcon, and more. They're classy enough for a wedding yet playful enough for everyday use, whether it be at the office or a night on the town.
2) Monogram Tumbler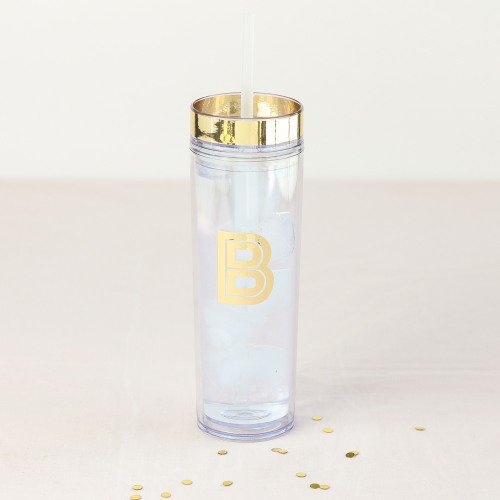 "Everyone loves tumblers and this one is the perfect gift for moms, sisters, and friends. I love that this tumbler is smaller, so it's easy to hold." – Jennifer,  social media manager
Pretty glassware has always been at the top of our list for favors and gifts because it's not only practical but also fun to use. This monogrammed tumbler is no exception—making a perfect holiday or bridesmaid gift. Seriously, who could resist the gorgeous design?
3) Organic Baby Gift Basket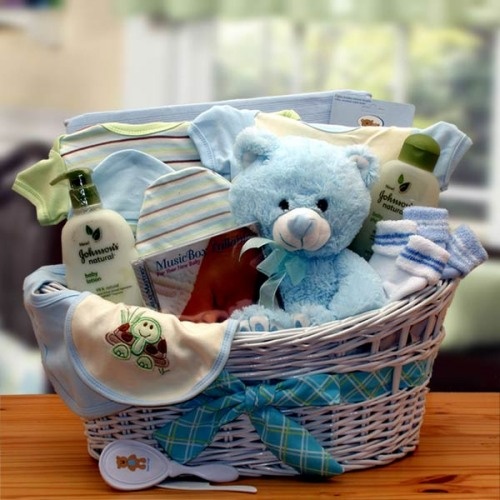 "This makes the perfect gift for my friend who's a new mom because she can use everything in it including the basket. My favorite part about this gift is it's organic—so I wouldn't be worried about any items posting an issue to the new baby's delicate skin. I like that it's packaged in a cute way and because I'm a busy person, I love that I don't have to spend time carefully picking each item and packaging it." – Monica, photographer 
We couldn't have said it any better. This ready-to-gift basket is practical, adorably packaged, convenient for the busy shopper, mommy-approved, and above all, safe for baby.
4) Personalized Cork Coasters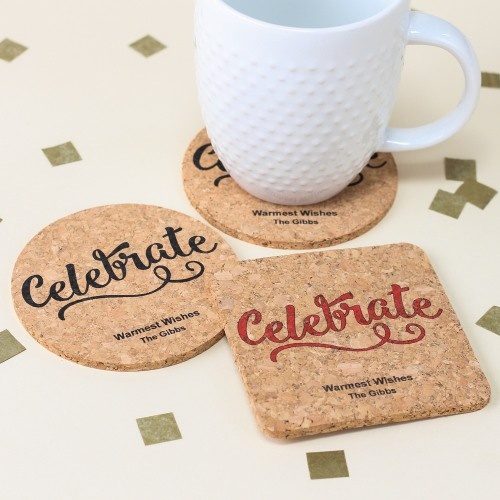 "I love a favor/keepsake that people will actually use! Our cork coasters are great because they're lightweight, super cute, sustainable, and practical." – Tri, customer service representative 
We're big on cork coasters here because they're lightweight and always on trend. They're perfect for using at Christmas parties and other special occasions and double as practical favors. Plus, they also make great holiday gifts for any household—so be sure to check out all of the coasters we have to offer.
5) Personalized Wood Cube Stamp 
"My grandmother is notorious for creating and mailing handmade cards. No matter the holiday or event, you can count on receiving a card from her in the mail, which is why I plan to give her this personalized stamp for Christmas. She's going to love the extra dose of personality it'll add to her envelopes." – Kellie, copywriter
For anyone looking for a pretty way to display a return address, spruce up a "thank you" note, or add a monogram, this personalized stamp is a special way to do so. Creative, sophisticated, and just plain fun, these stamps make a great gift for any paperphile on your list.
We hope we've inspired you with gifts that your loved ones will love! For even more fun items, head over to our Gift Shop and please feel free to share your favorite items with us in a comment below. Happy shopping!