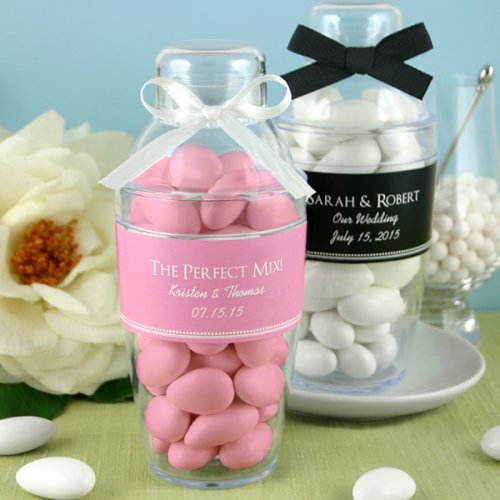 Armed with hundreds of samples, Gina and I made our bridal show debut on Wednesday night.  The event was called Promises and Pearls and it was held at the San Francisco Design Center.   Beau-coup has sponsored many shows in the past but we had never exhibited.  As newbies, we didn't know which samples to bring, so we brought one of everything.  We also didn't have any shelves, risers or a current brochure to hand out!  But we did our best with our table and as it turned out, folks didn't seem to mind the disorder.   We had a great time showing brides-to-be our new products and since we had samples of nearly everything on the site we were able to ask each visitor what she was looking for and find it for her in our great big bag of tricks.  The most popular item on the table was our giant diamond ring paperweight.  Girls and guys were drawn to its bling and couldn't keep their hands off of it!
Aside from meeting the hip couples who attended the show, my favorite part was coming face to face with fellow wedding vendors in the Bay Area, many of whom I had previously worked with or heard of but never met.  Among those who came by to say hello were Augie Chang of Augie Chang Photography, Marivic and Zuesette of Marizette Paperie, Julie Kiendra who's planning my friend's wedding at the Palo Alto Four Seasons and my friend Karen, the catering sales manager at The Ritz-Carlton.
The classy event featured a band, catered food and drinks and a performing group called the singing busboys who bussed.  And sang.  Guests walked around the room looking at ideas on table decorations, make-up and hair, lighting concepts and wedding favors.  And they left with a goodie bag filled with coupons cards, magazines, chocolates and a personalized notebook donated by Beau-coup.
The highlight of my evening, has to be meeting the pastry chef at Sibby's Cupcakery and getting to stuff my face with a delicious carrot cake cupcake.  It was the perfect way to end a successful night.