No matter what birthday you may be celebrating this year, we say a party is always better with confetti. The beautiful mix of colors alone is enough to make anyone happy, and today we're here to share some of our favorite ideas for a confetti themed party!
It's so easy to make this fun concept come to life. All you need is a little creativity and lots and lots of confetti. Be sure to check out all of our confetti party gear and get ready to be inspired with tips, tricks, and the prettiest of photos.
Confetti Adorned Invitations 
Add flair to your invitations by including a layer of confetti. It's the perfect way to get your guests excited for the party. If you have a certain look in mind, you can mix and match your favorite colors with our custom tissue confetti circles. This makes it so easy to make everything mesh at your party!
Confetti-Inspired Attire 
Dress for the occasion with an outfit that features colorful polka dots or sprinkle-shapes. Mini pom poms are an extra cute addition.
Confetti Inspired Paper Lantern Garland 
Colorful paper lanterns can easily be made into a garland. This fun idea reminds us of confetti with its mashup of bright colors and it was easy to make too! All we used was string and our honeycomb ball decorations.
Confetti Topped Hat 
Party hats make any celebration more festive and in this case, why wouldn't you add confetti? You can make these ahead of time to match the color scheme of your party or have guests make their own as a fun activity. Don't forget the custom confetti!
Funfetti Sprinkle Cake 
For edibles, sprinkles are the perfect alternative to actual confetti. (They have the same look and actually taste good too!) To create this effect, we used a "2" and "1" shaped candle. Lay the candles flat on top of the cake and sprinkle around them. Once you've added all your sprinkles, take the candles off the cake to reveal this same look.
Confetti Patterned Supplies 
If you're hosting a confetti themed party, then you may as well go all out. From napkins to plates, cups and bags — pick a pattern that looks like it's been doused in confetti. If you love the napkins in these photos, be sure to check out our dots patterned napkins and our personalized napkins, too. (Psst, we have so much more gear that matches!)
Personalized Confetti Designed Glassware 
Told you we have more fun items. We personally love using personalized glassware in any and every party. These stemless champagne flutes are one of our favorites, but we also love shot glasses and stemless wine glasses. Frosted cups or stadium cups are plastic and a perfect alternative for kids.
Confetti Filled Balloons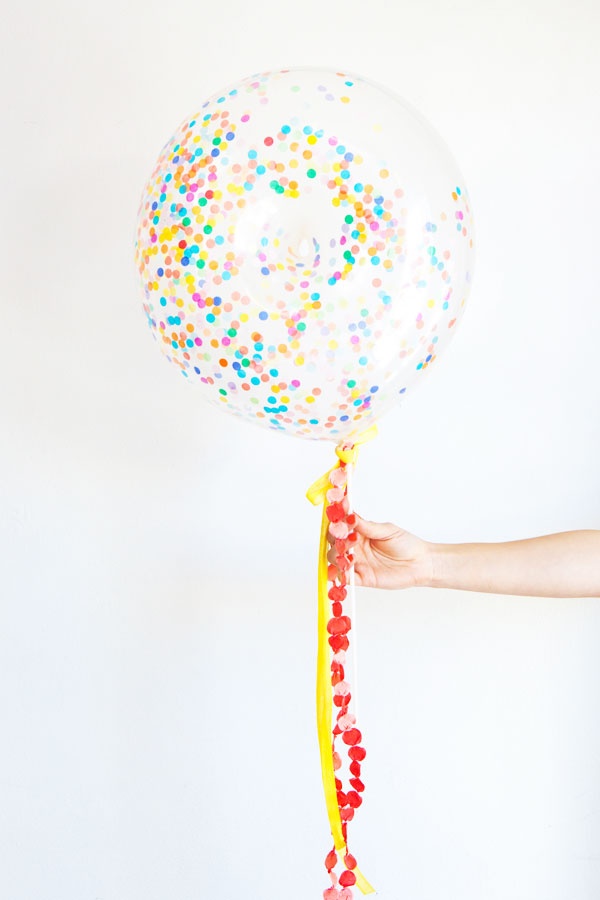 What's a party without balloons? For a confetti themed party, we suggest filling clear balloons with confetti as well as taping confetti to the balloon's string. Choose from our custom confetti, or pick up a pre-made kit.
Confetti Photo Backdrop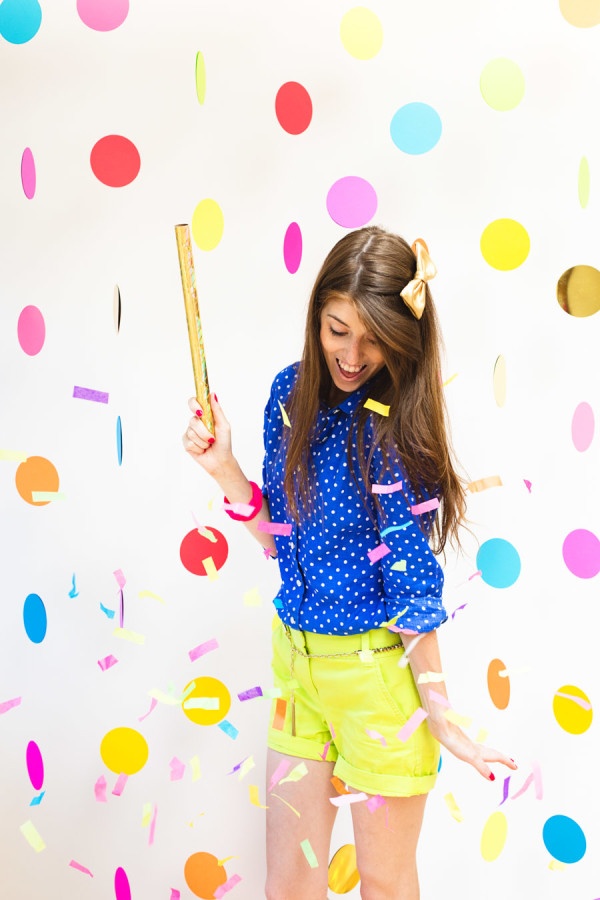 Show off those cute outfits and capture fun memories with your guests with a confetti-inspired backdrop. All you need is string and colored paper circles to make this idea come to life.
Party Favors 
When it comes to favors, you can never go wrong with an edible treat. Gumballs are perfect for kids while a mini champagne bottle with a bottle opener featuring our confetti design is great for grown-ups.
So what do you think of this theme? Would you host a confetti themed party? Don't forget to shop the post below and check out the rest of our confetti birthday gear. Plus for more confetti fun, check out our list of favorites for confetti DIY projects.
Shop This Post: