Do you have a little peanut on the way? Elephant-themed baby showers have been trending for the last several years, and they're continuing to become more popular. It's easy to see why: the theme is absolutely adorable and works great for both boys and girls. Inspired by our elephant collection, we've decided to share a bunch of our favorite elephant baby shower ideas, encompassing decor, games, and favors. Keep reading to see what ideas we love most!
Elephant Baby Shower Ideas for Games
Elephant Baby Shower Bingo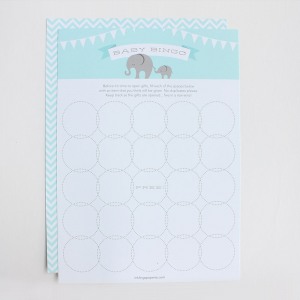 Our baby elephant bingo game involves the players filling in their sheets with the gifts they predict the mom-to-be will receive. Once she unwraps her gifts, the winner will be the person who guessed and laid out their bingo sheet the best.
Guess How Many? 
Get nutty with your guests! Fill a jar full of peanuts and display it on a table with pens, paper, and a container for each guest's guess to go in. Have each player write down their name and how many peanuts they think are in the jar. The player with the closest guess wins!
An Elephant Never Forgets Memory Game 
Scientists have determined that elephants have incredible powers of recollection. In keeping with the theme, let's see which of your baby shower guests has the best memory. Place baby items or gifts on a tray for everyone to see. Have it set up on a table or walk around with the tray to let your guests take a peek. But don't tell them it's a game just yet! Once everyone has had the chance to see the tray, you can hand out pens and paper for your guests to write down what they remember at any time during the shower. Whoever remembers the most items wins!
Elephant Baby Shower Ideas for Snacks
Nutter Butter Cupcakes 
Don't these look delicious? Elephants are known to love peanuts, so we thought a Nutter Butter-inspired treat would be the best bet for dessert! Try making peanut butter cupcakes and placing a Nutter Butter on top to complete the display. If you'd like to try making your own homemade nutter butter cookies, check out this article!
Animal Cracker Favors 
Use animal crackers as tasty snacks for your guests. These treats are easy to package and are a sweet favor your guests will love to eat!
 Hershey's Bar Favors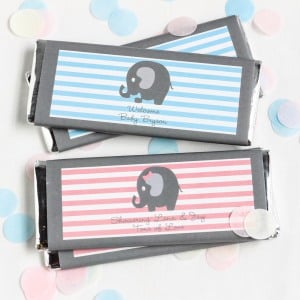 Chocolate makes pretty much everything better, including a baby shower! Order enough chocolate bars for every guest to enjoy one, and keep with the elephant theme with our personalized Hershey's bars. Select from blue, pink, or a neutral yellow to adorn each chocolate bar wrapper. We recommend ordering with the chocolate, but you can also order just the personalized wrappers if you prefer.
Elephant Baby Shower Ideas for Favors and Decor
Wish Balloons 
This print of an elephant holding wish balloons is adorable. We suggest placing this along with pens and notecards on a table for guests to write their best wishes for your little one. Such an adorable idea that you can then display after your shower!
 Elephant Mason Jars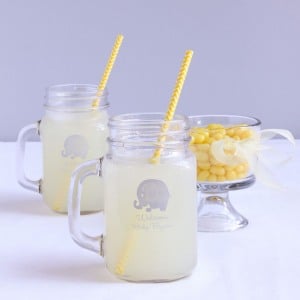 Guests will love drinking out of their mason jar at the shower almost as much as they love taking it home to use again and again. We have multiple elephant designs you can select from to adorn these personalized mason jars. Each glass mason jar holds 16 ounces of whatever beverages you'll be serving.
Elephant Coaster Favors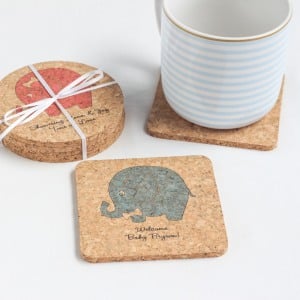 Our personalized baby shower cork coasters provide a simple but elegant touch to the gathering. Choose from a round or square coaster shape. These 100% cork coasters are so nice you'll have to decide if guests can take them home after the shower or if you're just going to keep them for yourself!
Elephant Favor Boxes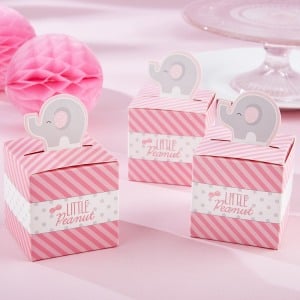 Take those animal crackers or any other favor you choose and stick them in these favor boxes. We can't think of any cuter packaging than these for an elephant-themed shower!
Personalized Drink Labels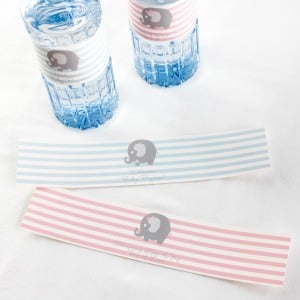 Decorate the water bottles or other drinks at your shower so they fit the theme and occasion. Easy to apply with peel-away strips, these high-quality labels look great on whatever your guests will be drinking. The labels come in two sizes, depending on what drinks they'll be going on.
Elephant Candle Favors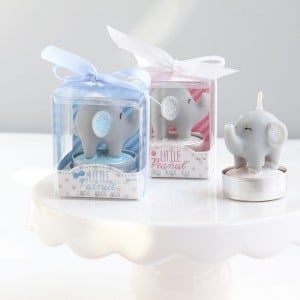 Add to the lighting and mood while staying on-theme with these elephant candle favors. Coming in blue or pink, each candle will arrive in a clear gift box with a ribbon. They also make super-cute favors to go in guests' treat bags.
Elephant Gift Bags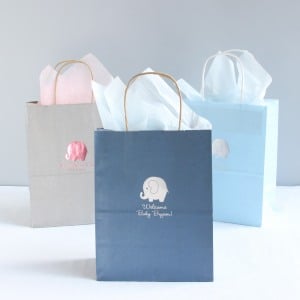 Send everyone home from the shower with a big smile on their face! These personalized baby shower gift bags are, of course, customized to match the elephant theme. You can also choose your favorite color for the bag from over a dozen choices. Load each gift bag up with treats and goodies for a day your guests are unlikely to forget anytime soon.
Wet Wipe Favors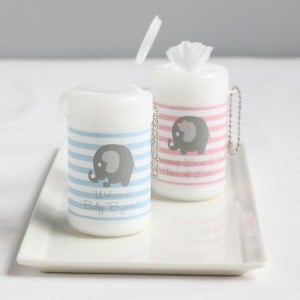 Make sure everyone at the shower is able to keep their faces and hands clean, especially if messy foods will be served. These fragrance-free, elephant-themed mini wet wipes do the job nicely. Each container comes equipped with 30 wet wipes to make sure everybody's ready to look their best at a moment's notice for all photo ops.
Elephant-Themed Tea Favors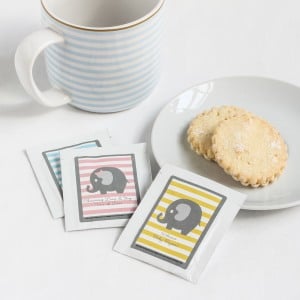 Provide your guests with a nice treat to bring home and enjoy later. Our personalized tea favors can be customized with a wide range of designs. Personalize each tea bag with your custom message to commemorate the occasion.
Elephant Baby Shower Kit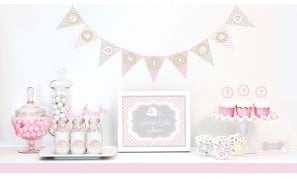 Looking for everything you need to throw a great shower all in one package? You've come to the right place. This kit comes loaded with an abundance of elephant favors and supplies to serve and impress 24 guests. Included are cupcake wrappers and toppers, decorative stickers, personalized flag labels and straws, personalized milk bottles, and much more. Take a look to see everything that's included! If you're celebrating a baby boy on the way, we offer the same kit in blue.
We hope these elephant baby shower ideas help to make the occasion special for you and your guests. Don't forget to check out the rest of our unique favors and decor for all kinds of occasions.