Wedding welcome boxes are one of our very favorite destination wedding details. Filled with goodies of your choice, welcome boxes are the perfect way to get guests excited for the big day and are also a special way to show appreciation for your guest's attendance — especially if they've traveled far to be at your wedding. And when it comes to putting together the perfect welcome box, we've got a few tips and tricks up our sleeve. From personalized packaging to the special items that go inside, we've rounded up a few of our favorite ideas below and can't wait to know your favorite ideas for a wedding welcome box, too. So, take a peek at what we put inside this beautiful love box below, as well as our helpful tips and more examples of welcome boxes for a little inspiration.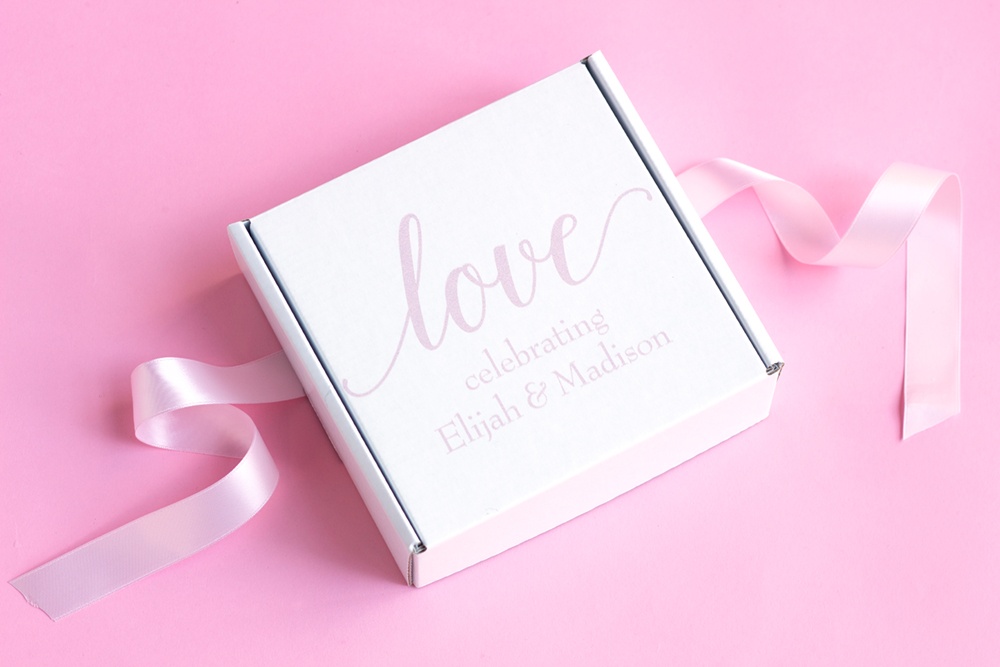 Packaging
For packaging, we especially love the idea of personalized boxes. Alternatively, you may also consider gift bags. For a full look on the inside, try adding tissue paper, confetti, or paper shavings.
Inside the Box 
While not a rule, we like to include items that are practical, fun, and coordinate with your wedding theme. Here are some items to consider.
Snacks (eg. nuts, caramel corn, jam)
Drinks (eg. water bottles, mini bottles of champagne, iced coffee)
Something Sweet (eg. chocolate covered pretzels, Hershey's kisses, cookies)
Something Practical (eg. lip balm, mints, Advil)
Something thematic (eg. a stemless wine glass for a wine wedding)
For some more ideas and inspiration, take a look at these wedding welcome boxes that we put together.
Romantic Welcome Box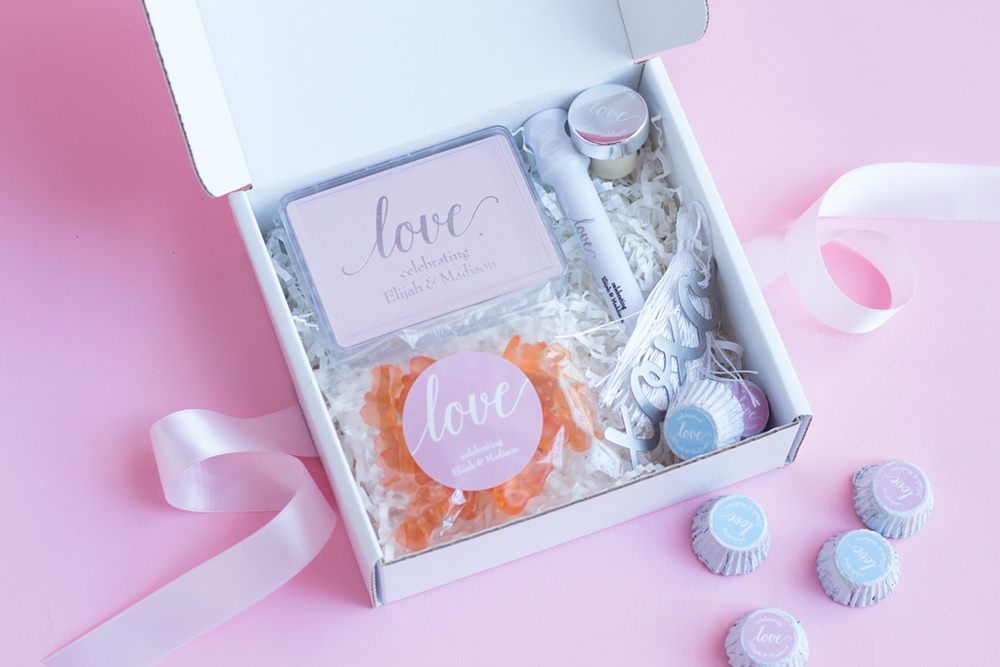 What's inside:
We told you we'd get back to this box. With a romantic color palette and "love" icon, we added some of our favorite sweets as well as well as accessories for wine and fun playing cards
Glitzy Welcome Box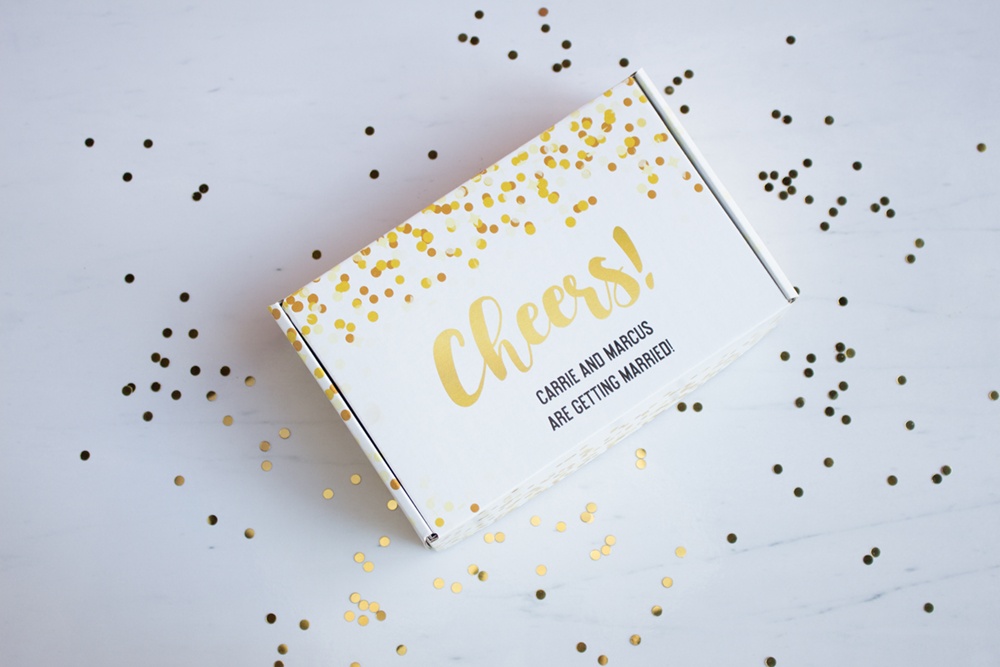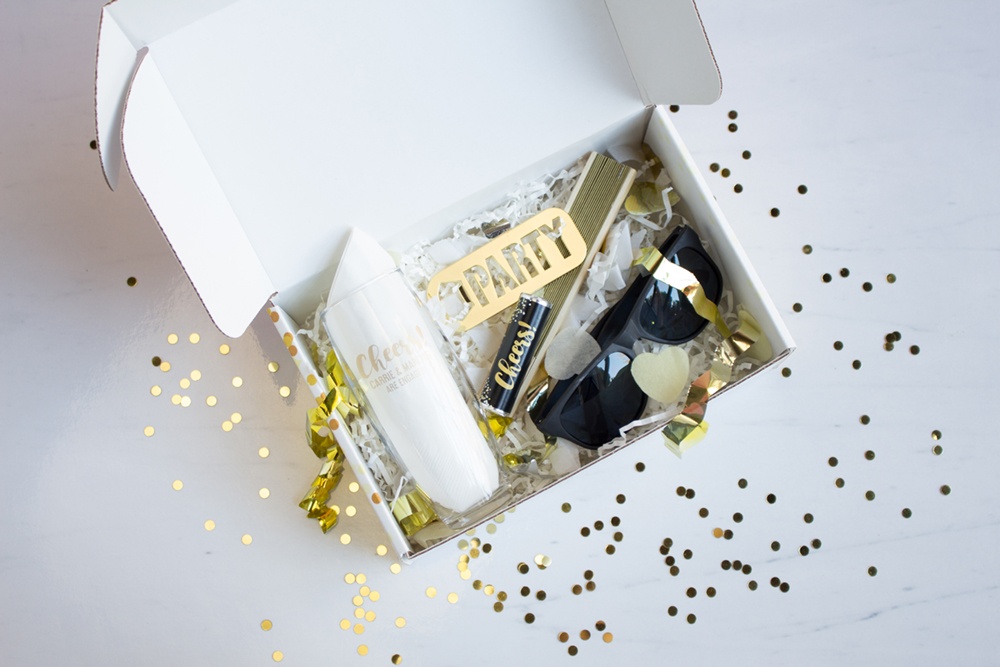 What's inside:
Gold Confetti and Streamers
For a wedding that's on the glamorous side, we love the idea of metallic accents as well as pieces that are fun. Think bottle openers, confetti, and a cool pair of sunnies.
Rustic Welcome Box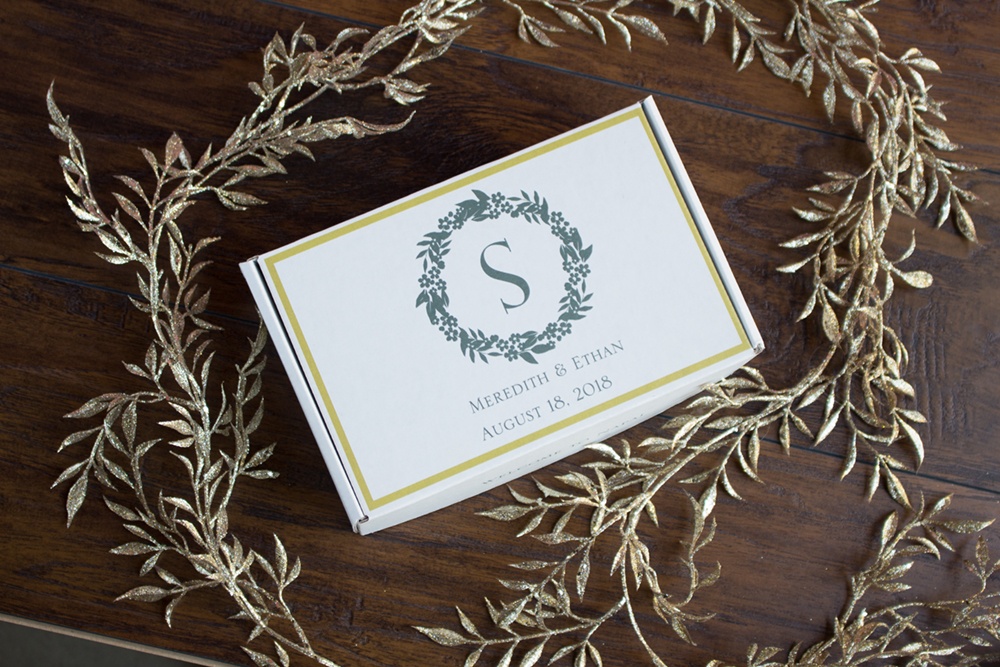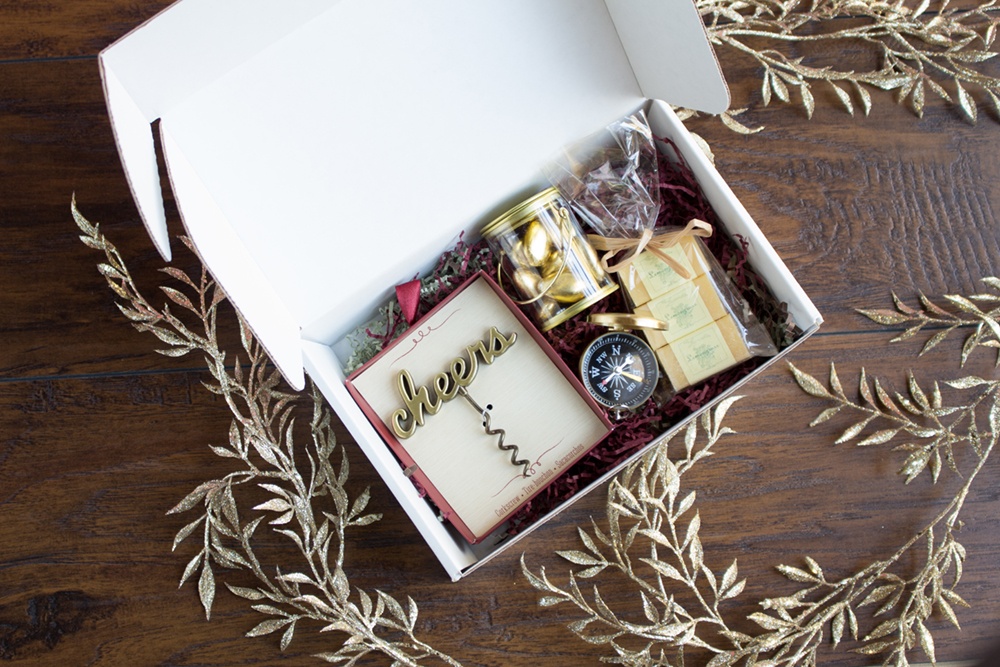 What's inside:
For a rustic feel, we went with a darker, muted color palette and added in antique/vintage items like the compass. Lemongrass soap is a practical item your guests won't be able to resist and of course, we had to include chocolate.
We hope we've inspired you to put together the perfect welcome box for your wedding! Do you have any other tips you would like to share with us? What would you love to see in a welcome box?