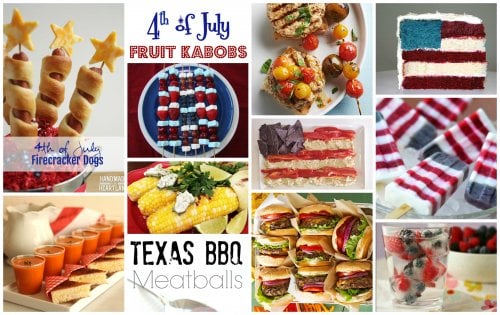 Turn any ordinary July 4th celebration into an epically awesome soiree with America themed recipes.
We scoured far and wide to bring to you these 12 recipes that prove themselves to be delicious, easy-to-make, and above all else, extremely Americana.
1)  America Fruit Kebabs
Patriotically healthy? Sign us up! Guests will go gaga for these gorgeous kebabs.
2) Red, White, & Blue Ice Cubes
We originally suggested this idea for a Sweet 16 Mocktails post, but the incredibly vibrant colors fit beautifully for an All-American party as well!
3) Flag Chips & Dip
If you're not big on cooking, then arrange your way towards America the beautiful… veggie chip and dip platter style.
4) Chipotle Baked Beans
No backyard BBQ is complete without a side of  baked beans, and no representation of America is complete without the flavors from the Southwest. Easily get both with this delicious recipe.
5) Cilantro Butter Corn
Turn grilled corn up a notch (or ten…) with the addition of cilantro butter.
6) Classic Tomato Soup and American Grilled Cheese
What's more American than a classic grilled cheese with tomato soup? How about handheld "To-Go" versions! Perfect for a mingling bunch at your BBQ.
7) Firecracker Dogs
These firecracker hot dogs are tasty, patriotic, and oh-so-cute!
8) Texas BBQ Meatballs
This homemade recipe is easy to make and a surefire crowd-pleaser for your upcoming July 4th party.
9) Whiskey Cheese Burgers
Whiskey, burger, and ooey-gooey cheese. This is America the beautiful.
10) Healthy Turkey Burgers
To counteract #9… a healthier – albeit still uber tasty – alternative to an otherwise decadent cheese burger.
11) Patriotic Popsicles
These American inspired popsicles are a fantastic way to cool off at a hot July 4th cook out.
12) American Flag Cake
With just a little bit of puzzling expertise, you too can create this mosaic American flag cake. It's the perfect finishing touch to your 4th of July party!