When it comes to planning your wedding, it's the extra attention to detail that will really impress your guests. And today we're here to share our latest idea for an extra special destination wedding detail — a DIY morning after breakfast basket. After having traveled and taking part in your wedding day, a homemade or home-packaged basket of breakfast goodies is sure to be appreciated by your loved ones. After all, what's better than waking up to a ready-to-eat breakfast? Take a look at how we made this thoughtful idea come to life below and get inspired to create your own morning after basket for your wedding guests.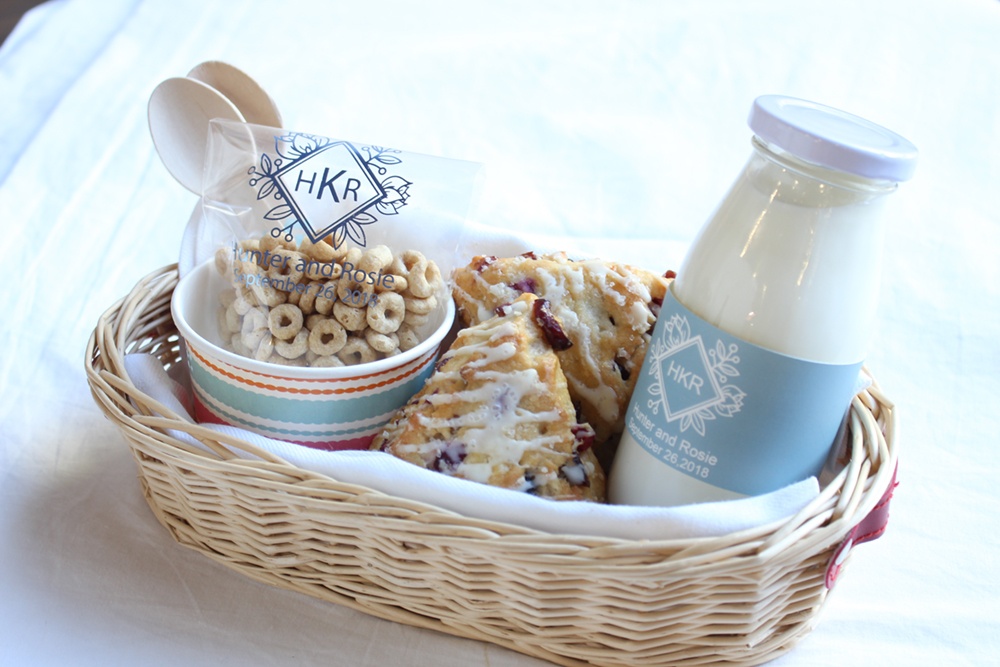 For a cozy look, we recommend packaging your breakfast items in a small to medium sized basket. We also decided to include a cloth napkin in ours to add an extra layer of coziness. As far as our breakfast foods, we decided to keep it simple with milk, cheerios, and scones. Simple foods like this are perfect for including in the basket because they're not only tasty but easy to pack, too. (You may also want to consider items such as berries, donuts, bagels or orange juice.) For an extra special look, we decided to add a dose of personalization with personalized cello bags for the cheerios and a personalized drink label for the milk jar. For the finishing touch, we included a paper bowl and disposable utensils for the cereal. It's that simple! Hand deliver these to guests who may be staying in your home, or get assistance from the hotel where your guests are staying.
What do you think of this wedding detail? What would you put in your basket?
Shop This Post: