Have you heard the buzz? A bee themed baby shower is the bee's knees! It's a playful theme filled with bright colors, adorable puns, and delicious foods.
That's right, delicious foods! A bee themed baby shower is leaps and bounds more delicious when compared to other types of themed showers due to the honey and  lemony-yellow components. See our bee-licous roundup below and get a taste of the sweet bee life.
Buzzworthy Cakes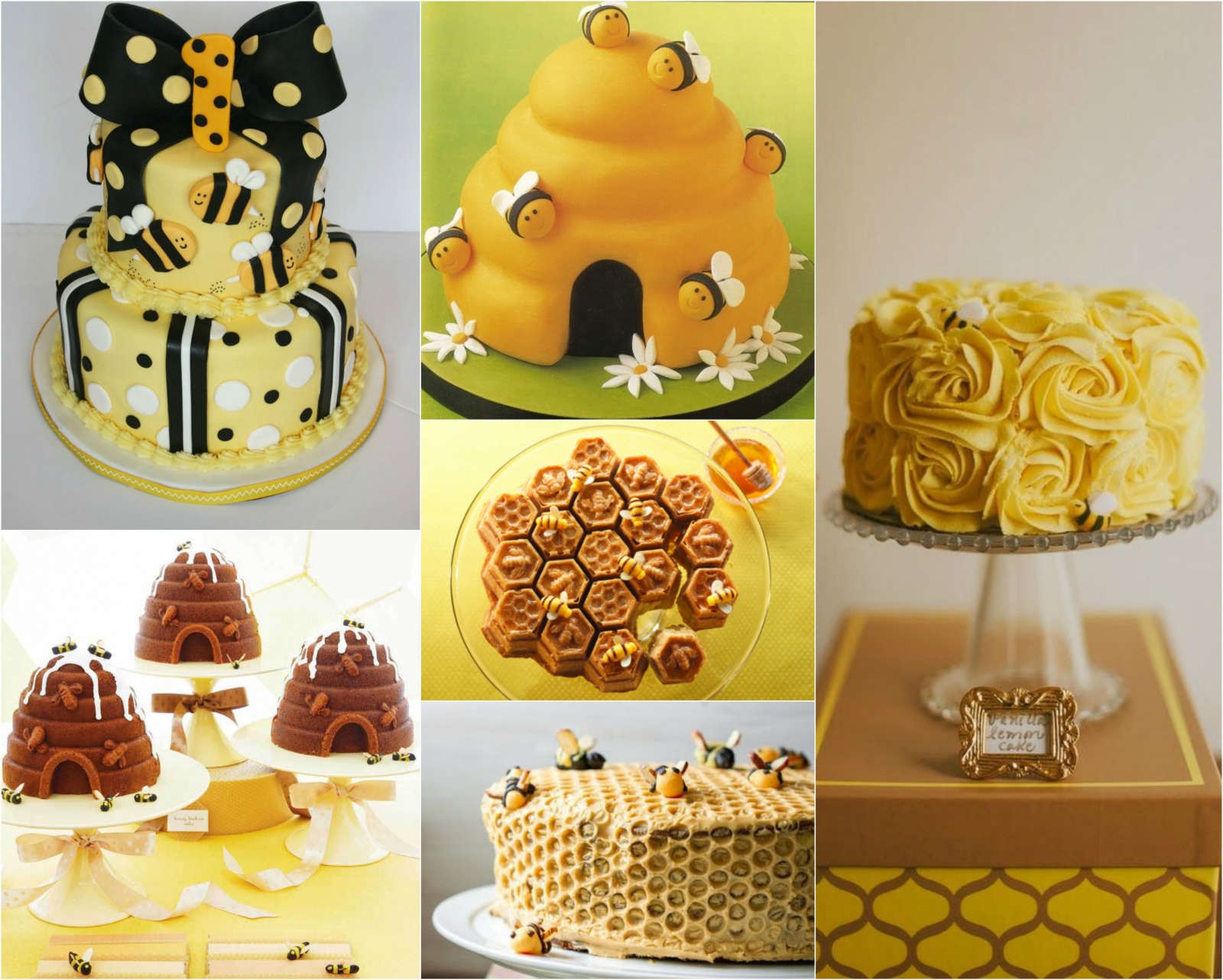 (image credit clockwise from top left: And Everything Sweet, Pralinettes, the frosted petticoat, Aleksandra's Recipes, fancy flours, sweet designs)
A proper bee baby shower requires an outstanding cake as it will serve as the centerpiece and main focal point. Easily knock this item off your bee to do list with a cute bee decorated cake, a hive shaped cake, or even a simple yet bright yellow cake.
Ba-Bee Cakes and Cookies
(image credit clockwise from top left: Pinterest, Cupcakes Garden, The Cake Blog, Sweet Designs, Hostess With The Mostess, Make Me Cake Me, loverly)
A wonderful way to play on the bee and baby aspect is to offer "Ba-Bee" sized desserts. This punny idea is perfectly on-theme and is extremely mingle-friendly.
Offer some pull apart cupcakes shaped as a hive, cake pops with elegant striping, and lemon macarons decorated with almonds and chocolate piping. Your guests will be able to enjoy these tasty treats wherever they buzz around to at the shower.
Bee-licious Snacks
Your guests can't live on cakes and cookies alone. Be sure to also offer bee themed snacks for their enjoyment. Not just any snacks though, we're talking about bee-licious snacks!
Have some fun with this theme with ideas like "Twink-bees", lemon starbursts, cheesecake "stingers", honeycomb bites, and homemade lemonade.
Sweet Treats To-Go
Let your guests leave on a sweet note with yummy bee themed favors. Try packaging some "bumble" gum, pots of honey, honey sticks, or "Sweet as can bee" tea packets with pretty lemon flavored sugar cubes.
By gifting guests a bee themed favor, their sweet memories of the shower will stay abuzz in their minds long after the shower ends!